NATO, accused of mission failure by Libyan rebels, admitted it must be "particularly careful" with its air strikes as government troops use civilians as human shields, but vowed to do everything to protect residents of Misrata.
France pledged to open a sea corridor to the besieged Mediterranean port, while UN Secretary General Ban Ki-moon made a new "urgent call for an immediate cessation of the indiscriminate use of military force against the civilian population," his spokesman said.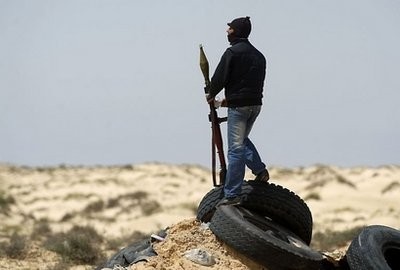 A Libyan rebel fighter holding a rocket-propelled grenade (RPG) launcher looks out into the desert some 40 kms outside Brega
Libyan strongman Moamer Kadhafi wrote to President Barack Obama, but the letter was rejected by the White House.
A tanker left the port of Tobruk on Wednesday carrying the first consignment of oil since the rebel government won recognition from some countries.
But the country's deputy foreign minister Khaled Kaim accused Britain of bombing Libya's biggest oil field at Al-Sarir in the southeast, notably damaging the pipeline linking Al-Sarir and Tobruk, which is under rebel control.
"British fighter bombers raided the Al-Sarir oil field, killing three guards at the site and wounding other people working at the field," Kaim said at a news conference Wednesday.
Rear Admiral Russell Harding, NATO's deputy commander of operations, told journalists that "NATO forces have been particularly careful to avoid injury to civilians who are in close proximity to the fighting, often precisely because of the tactics of government forces."
Kadhafi loyalists "have increasingly shifted to non-conventional tactics, blending in with road traffic and using civilian life as a shield for their advance," he said at the base in Naples overseeing operations.
The mandate to protect the civilian population was more challenging because of the stipulations of the UN Security Council resolution approving the mission, which explicitly rules out the use of ground troops, he said.
Libyan forces using these new tactics were moving eastwards "in the direction of Ajdabiya, posing a direct threat to that city and beyond that to Benghazi".
NATO has responded with "direct strikes on advancing forces and their logistics and munitions supply chains," he said.
"NATO has also used surgical air strikes to sever the main supply route between Ajdabiya and Misrata," he said, referring to Libya's third largest city which has a population of 500,000 and has been besieged by Kadhafi forces for more than a month.
After the NATO alliance was forced on to the defensive when rebels urged the alliance to do more to protect Misrata, Harding said a "substantial number" of heavy vehicles and tanks had been destroyed in the area on Tuesday.
The top commander of rebel forces, Abdelfatah Yunis, accused NATO-led aircraft of doing nothing while loyalist forces kept up their 40-day long artillery bombardment of civilians in Misrata, 215 kilometres (130 miles) east of Tripoli.
NATO "is letting the people of Misrata die every day", Yunis told reporters in the rebel stronghold of Benghazi late on Tuesday.
"If NATO waits one more week, there will be nothing left in Misrata".
Yunis charged that if NATO wanted to break the city blockade, they would have done it several days ago.
"Every day, civilians -- elderly people and children -- are dying in Misrata", he said. "NATO has done nothing, they have just bombed here and there."
NATO insisted that the pace of air strikes against Kadhafi's forces has not slowed since the 28-nation alliance took command on March 31 of a Western bombing campaign that had been led by the United States.
"Misrata is our number one priority," NATO deputy spokeswoman Carmen Romero told AFP on Wednesday.
"We have a clear mandate and we will do everything to protect the civilians of Misrata," Romero said.
In Washington, the White House acknowledged receiving a letter from Kadhafi but rebuffed it, stressing that the strongman will be judged on his actions in ending violence against civilians and not his words.
"We can confirm that there is a letter, obviously not the first," White House spokesman Jay Carney said, adding that Obama had made clear several weeks ago that a ceasefire in Libya would be dependent on "actions not words, (and) a cessation of violence".
The official Libyan news agency JANA had said Kadhafi sent the letter to Obama following the withdrawal of US warplanes from frontline missions in the coalition air operation.
US Secretary of State Hillary Clinton sounded a dismissive note Wednesday when asked about the letter.
"I don't think there is any mystery about what is expected from Mr. Kadhafi at this time," she told reporters.
"I think that Mr. Kadhafi knows what he must do, there needs to be a ceasefire, his forces need to withdraw from the cities that they have forcibly taken at great violence and human cost.
"The sooner that occurs and the bloodshed ends, the better it will be for everyone," the chief US diplomat said.
In Paris, Defence Minister Gerard Longuet said Libyan rebels will now be able to supply Misrata by sea.
"We are going to ensure that... aid comes from Benghazi and that at no moment Kadhafi's military forces will be able to stop this," he told France Inter radio.
A tanker left Tobruk carrying the first consignment of oil since the rebel government won some international recognition.
The Greek-owned, Liberian-registered tanker had docked on Tuesday to load the consignment of crude worth up to 100 million dollars, the first since coalition air strikes began on March 19 and destined to finance the rebels.
Rebel fighters lost ground to loyalists Tuesday but a spokesman said such reverses were a normal occurrence in fluid desert wars and would pose no obstacle to Kadhafi's eventual overthrow.