The NATO chief said Wednesday he was confident Washington's allies would step up and boost their role in Afghanistan, despite France and Germany already refusing to pledge extra troops for the war.
US President Barack Obama announced he was pouring 30,000 more troops into Afghanistan, vowing to "seize the initiative" to end the eight-year conflict and start a pullout in July 2011 in a move welcomed by his allies.
He also cranked up pressure on NATO members for more troops, saying they were also threatened by Afghan-based terrorism.Related article: Obama announces troop surge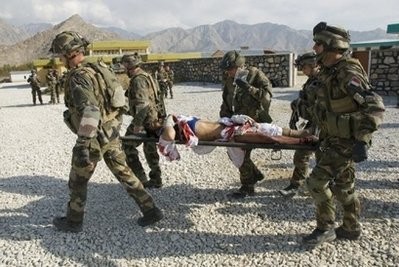 French soldiers carry an Afghan civilian injured in a rocket attack into a crowded market place.
His war commander General Stanley McChrystal hailed the new strategy, saying it had provided him "with a clear military mission and the resources to accomplish our task."
"The clarity, commitment and resolve outlined in the president?s address are critical steps toward bringing security to Afghanistan and eliminating terrorist safe havens that threaten regional and global security," he said.
NATO Secretary General Anders Fogh Rasmussen said he was confident members of the transatlantic alliance would make a "substantial" increase in their commitments.
"As the US increases its commitment, I am confident that the other allies, as well as our partners in the mission, will also make a substantial increase in their contribution," he said in comments posted on NATO's website.
NATO foreign ministers will be meeting in Brussels on Friday to discuss Afghanistan, where more than 40 countries have troops.
Britain has already offered an extra 500 and Prime Minister Gordon Brown said they would be accompanied by new forces from at least eight other NATO allies, as well as the United States.
Italy has said it will send an unspecified number, while Poland is considering deploying several hundred more soldiers.Facts: NATO, US troop numbers
But both France and Germany indicated they will not immediately deploy extra combat troops.
French President Nicolas Sarkozy said he "provides his full support" for Obama's strategy and called "on all countries which want to help the Afghan people to support it," but said France would wait until an international conference on Afghanistan on January 28 to review its troop contribution.
Sarkozy said France expects to hear at the conference clear commitments from Afghan leaders on a range of issues including taking over responsibility for security, which will allow the international community to review its efforts.
"It is within this renewed context that France will examine its contribution to the international strategy," he said in a statement.
Le Monde reported that Obama was seeking 1,500 extra French troops on top of the 3,400 already there.
German Chancellor Angela Merkel said her country would also wait until after the London conference.
"After this conference on Afghanistan, Germany will decide whether or not it will make fresh efforts, and if so, what efforts," Merkel said, adding that security in Afghanistan would not be solved by military means alone.
Germany has around 4,300 troops in northern Afghanistan, the third largest contributor to a 100,000-strong international force after the United States and Britain, whose extra 500 troops will take it past 10,000.
Brown set three conditions for Britain sending extra troops to Afghanistan.
These were that the Afghan government show a commitment to providing police and soldiers who can be trained to engage in combat; that British troops are properly equipped and that other NATO countries also boost force levels.
Polish Prime Minister Donald Tusk said after a telephone call from Obama that his country could beef up its contingent of 2,000 troops by several hundred.
"According to President Obama, a bigger engagement (now) could allow for starting to withdraw the forces in 18 to 24 months from now at the latest," Tusk said Tuesday.
He added that no decision has been made yet but he has asked Poland's defence minister to prepare a report on how many soldiers would be needed to make the Polish contingent more effective.
Australian Prime Minister Kevin Rudd pledged Monday to send more police trainers and civilian aid experts, saying his country was in it "for the long haul."
But Rudd, who met Obama in Washington this week, did not offer more troops beyond the 1,550 that Australia has already committed.
His Defence Minister John Faulkner said he hoped the increase in US troops would make a "significant difference" on the ground, while reiterating: "We're not planning to send additional troops to Afghanistan".