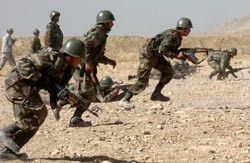 Afghan National Army (ANA) soldiers participate in a joint military exercise on the outskirts of Kabul, Oct. 31, 2006 (AFP Photo)
NATO troops in Afghanistan are insufficient to guarantee a swift victory for coalition troops there, the organisation's commander in the Asian country said in interviews for the British press published on Wednesday.
Lieutenant-General David Richards, the British leader of the NATO troops in Afghanistan, also said that coalition soldiers would focus more attention on reconstruction within the country than on fighting the Taliban militia over the winter.
"If you said to me, if your aim is to win, I'd say no. I haven't got enough (to) win this, say, in the next six months, but I can continue to make sufficient improvements to keep the people here confident in us and in their government," Richards said, speaking to the Financial Times from Kabul.
Richards, who commands about 31,000 International Security Assistance Force (ISAF) troops from 37 countries, said that it would be possible to "persuade through substantive improvement, the people of this country that we are making real progress."
"I can persuade them of that without huge amounts of additional troops," he said, before noting that he was "confident that NATO nations will continue to answer the call."
Attempting to persuade Afghans that NATO is making progress in the country, Richards said that significant visible improvements to persuade them to "keep the faith" with foreign troops.
"Something that really hit me in the eye was just how important it was for the Afghan people for us to prove that we could fight and defend their areas," Richards told The Times.
The general insisted that the "security situation has improved" but noted that "there are bound to be tactical blips and setbacks".