LISBON, Nov 20, 2010 (AFP) - US President Barack Obama and his allies in NATO's nine-year war against Afghanistan's Taliban met Saturday to thrash out a plan to pass command of the battlefield to Kabul by 2014.
Afghan President Hamid Karzai joined his sponsors in Lisbon to map out an exit strategy for 150,000 NATO-led troops, despite an open row over tactics in a guerrilla fight that has left 2,200 foreign soldiers dead.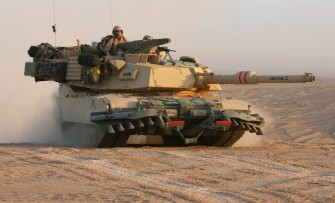 AFP file - In this photograph taken on March 18, 2003 a US M1A1 Abrams tank from the US Army 3rd Infantry Division in northern Kuwait desert advance close to Iraq.
As the leaders met, three civilians were killed and 25 others wounded when a bomb fixed to a bicycle exploded in eastern Afghanistan, adding to the toll in the bloodiest year for NATO soldiers and ordinary Afghans.
"The direction starting today is clear towards Afghan leadership and Afghan ownership," NATO Secretary General Anders Fogh Rasmussen said as he opened the gathering of allied heads of state and government.
"That is the vision President Karzai has set out. It is a vision we share and we will make a reality starting early next year," he said.
"Success matters as much to us as it does to the Afghan people, which is why we will agree here today a long term partnership between NATO and Afghanistan, to endure beyond the end of our combat mission," he said.
The summit was attended by leaders from the 28 NATO allies, the 20 other nations that fight alongside them in the ISAF military coalition, big cash donor Japan and UN Secretary General Ban Ki-moon.
On Saturday, Obama outlined his proposed timetable for pulling out the bulk of US forces from Afghanistan and handing control to local commanders.
"I look forward to working with our ... partners as we move towards a new phase, transition to Afghan responsibility, which begins in 2011, with Afghan forces taking the lead on security across Afghanistan by 2014," Obama said.
Alliance officials insist the transition to Afghan control is not a rush to the exit, but the war is deeply unpopular in Europe and cash-strapped governments are under pressure from voters to bring soldiers home.
Nevertheless, Obama hopes to convince his European allies to send more troops to train Afghan security forces plagued by desertion and corruption. Summit host Portugal said it would like to send 40 more trainers.
Karzai surprised many of his allies this week by urging the United States to scale down military operations and by sharply criticising special forces night raids on Afghan homes.
"It's clearly not helpful for some of the frictions that exist to be played out a week before a summit," a senior NATO official said.
"There's no question there are some frictions between us," he said.
This year has been the deadliest for NATO forces and Afghan civilians.
Another foreign soldier Friday fell to an Afghan bomb attack, taking the toll for the year to 654.
The number of ordinary Afghans killed in the conflict rose by a third in the first six months of 2010 to 1,271, with most deaths caused by insurgent attacks, the United Nations reported in August.
"If the enemies of Afghanistan have the idea that they can wait it out until we leave they have the wrong idea. We will stay as long as it takes to finish the job," Rasmussen promised.
The Alliance will hold a separate meeting with Russian President Dmitry Medvedev later Saturday to strike a new cooperation deal on Afghanistan.
Russia has cooperated with NATO on Afghanistan by allowing alliance supplies to transit through its territory and providing counter-narcotics training to Afghan officials outside Moscow.
NATO, which has faced fierce rebel attacks on fuel trucks on Pakistani roads, wants Russia to allow equipment in and out of Afghanistan and expand the list of permitted goods to include armoured vehicles.
Russia has so far only allowed a one-way transit of non-lethal NATO supplies by train to Afghanistan. Weapons would still not be permitted under a new deal, NATO officials said.