NATO Secretary General Jaap de Hoop Scheffer has said the alliance will not consider adopting a new policy toward Russia despite disagreements on Georgia and uncertainties over Moscow's intentions, reported RIA-Novosti on Friday.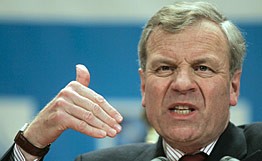 NATO Secretary General Jaap de Hoop Scheffer
"We may have to make adjustments in the way we approach Russia, but we do not need a new policy," he said on Thursday at the Royal United Service Institute in London before the start of an informal meeting of NATO defense ministers.
"Such a solution cannot be found and will not be found if we seek to punish Russia. NATO is not in the punishment business," he said.
Relations between NATO and Russia sunk to their lowest point since the end of the Cold War after the recent conflict between Moscow and Tbilisi over Georgia's breakaway republic of South Ossetia. After a five-day military operation to 'force Georgia to peace', Russia recognized the republic as independent, along with another Georgian breakaway region, Abkhazia.
NATO subsequently urged Russia to reverse its decision and respect Georgia's territorial integrity. Moscow in turn blamed Western powers for encouraging Tbilisi's aggression and suspended all peacekeeping operations with NATO for at least six months. It has also frozen its participation in NATO's Partnership for Peace program.
Moscow's NATO envoy Dmitry Rogozin is expected to report on an expected shift in NATO's position on Russia later on Friday.
"I am flying to Moscow tomorrow to meet with the foreign and defense ministers as well as presidential administration representatives, to inform them of an expected shift in the alliance's position," Rogozin said on Thursday.
The NATO chief said that both the alliance and Russia would be much better off facing global challenges together rather than engaging in "rhetorical escalation" over Georgia.
"Georgia may remain a bone of contention between Russia and the West for some time to come. But this must not prevent us from seeking to cooperate with Russia wherever our interests converge," Jaap de Hoop Scheffer said.
"One key area where this is the case is Afghanistan."
Since the Taliban regime was overthrown in the 2001 U.S.-led campaign, Afghanistan has become the world's leading producer of heroin. Afghanistan's opium production increased from 6,100 tons in 2006 to 8,200 tons in 2007, according to the UN.
NATO's International Security Assistance Force (ISAF) has about 53,000 troops operating in the country under a UN mandate to help give security support to the Afghan government and stop the flow of drugs from the country.
However, despite international efforts, the Taliban, ousted from power after a U.S.-led military operation in 2001, have been stepping up their activities in recent months. The radical Islamic movement has vowed to increase suicide and other attacks in order to undermine the authority of the current Afghan administration.
Moscow had earlier agreed to allow logistics supplies for NATO troops in Afghanistan to pass through Russian territory.
Russia had so far supported NATO operations in Afghanistan due to concerns over the worsening military and political situation in the country, with its ongoing rise in extremism and drug production.
"No matter how much we may disagree on some issues, the fact of the matter is that both NATO and Russia face a number of common challenges - and both NATO and Russia will be better off by facing them together," the NATO secretary general said.