NATO is planning to create a top civilian post in Afghanistan, the Wall Street Journal reported Thursday, amid calls for improved political and development coordination in the country.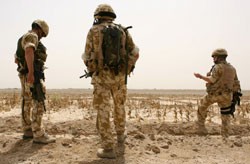 UK soldiers patrol a southern area in Afghanistan. (AFP Photo)
It said Britain's ambassador in Kabul is the front-runner for the job, which could be announced to coincide with an international conference on the future of Afghanistan to be held in London on January 28.
"The new appointee would head the civilian pillar of the US-led coalition's work here, directing the flow of funds and aid to the provinces and -- if necessary -- bypassing corrupt Afghan institutions," the paper said in its report from Kabul.
UN chief Ban Ki-moon earlier this month called for the appointment of a top civilian official within the NATO-led International Security Assistance Force (ISAF) to help the coordination of political and development efforts, with the war now well into its ninth year.
The Journal said the new position would be a civilian counterpart to US General Stanley McChrystal, the top commander for the 113,000 US and NATO troops in Afghanistan.
Another 40,000 international troops are expected to arrive in Afghanistan over the next few months, as part of the strategy to counter the escalating Taliban insurgency.
The Journal said the civilian coordinator would help enact the so-called civilian surge, helping the reconstruction of areas that have been cleared of insurgents.
A final decision has yet to be made, but the paper said the plan to appoint British ambassador Mark Sedwill was backed by the United States and was likely to be endorsed by its allies.
The new appointee would have greater authority than NATO's current senior civilian representative in Kabul, Fernando Gentilini of Italy, who was expected to leave Kabul after the London conference, the report said.
Karl Eikenberry, the former US ambassador to Afghanistan, had been considered for the NATO post, but European and Canadian allies were opposed to "a complete Americanisation" of the Afghan campaign, the newspaper reported.