NATO aircraft plan to fly 198 sorties over Libya on Wednesday, which would be the highest for a single day since NATO assumed full command of operations on March 31, the alliance's spokeswoman said.
Oana Lungescu said in a statement that NATO jets plan to conduct 198 sorties, but didn't specify how many of them would be airstrikes against ground targets in Libya.
The "operational tempo has increased" and protecting civilians in Misrata, a rebel-held city near Libyan capital Tripoli, is NATO's first priority, she said.
NATO jets conducted 155 sorties on Tuesday, including 66 strike sorties.
Libyan rebel leaders have lashed out at NATO for failing to provide sufficient air support and stop the siege of Misrata by Libyan leader Muammar Gaddafi's forces.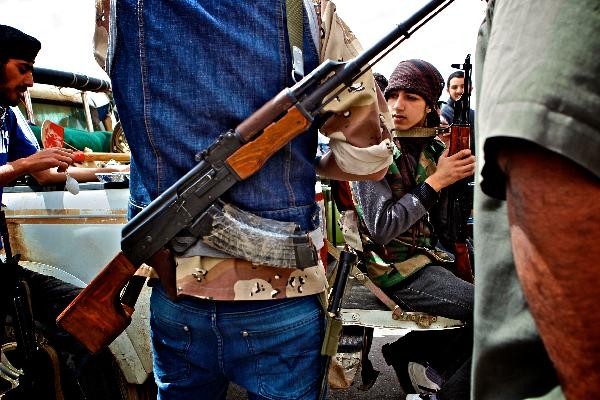 Anti-government militants equiped with AK47 are seen at the front line of Brega, eastern Libya, on April 6, 2011. Forces loyal to Libyan leader Muammar Gaddafi withdrew from the eastern oil port city of Brega on Wednesday after fierce overnight clashes with the rebels
NATO military officials said that Gaddafi's forces had changed their tactics to avoid airstrikes by hiding tanks and heavy weapons in urban areas, even using human shields to protect them.
In addition, as the United States withdrew their aircraft from attacking on ground targets on Monday, the alliance faces shortage of strike capacity, even Britain has pledged four additional Tornado jets
Forces loyal to Libyan leader Muammar Gaddaffi withdrew from the eastern oil port city of Brega on Wednesday after fierce overnight clashes with the rebels.
The government troops have pulled back from Brega, "but we moved slowly because they left snipers in the town," a rebel told Xinhua.
As of 3:00 p.m. local time (1300 GMT), severe clashes still continued in west of Brega, he added.
Xinhua correspondents moving with anti-government fighters saw clearly the black smoke rising from the battlefield, and heard the explosion in the town.
The fighters, who are several meters away from Xinhua correspondents, fired at least 10 ground-to-ground rockets at Gaddaffi's troops.
However, NATO's warplanes which overlooked the two sides did not strike the government troops.
Gaddaffi's troops and the anti-government fighters have traded fire in Brega and Ras Lanuf in the past two weeks since the UN passed a resolution which imposed a no-fly zone over Libya.