BRUSSELS, March 25, 2011 (AFP) - NATO readied itself Friday to police Libyan skies and stop Moamer Kadhafi's jets, but doubts remained over whether the alliance would take full control of military operations there.
After marathon talks focused on Turkey's objections to the US-led coalition's bombing campaign, NATO agreed to enforce the no-fly zone late Thursday but had yet to authorise attacks on Kadhafi's ground forces.
For now, NATO will launch operations within the next three days to prevent Kadhafi's jets from taking to the skies -- shooting them down if necessary -- while the coalition remains in charge of targeting ground forces.
Turkey, NATO's sole Muslim member and a key regional power, has ruled out taking part in any combat mission, and since the 28-nation alliance works by consensus, its support would be needed to expand the mission.
Another key question to resolve is who will have political control of the military operation. France has warned that flying the mission under the NATO flag would alienate Arab allies.
French President Nicolas Sarkozy insisted Thursday that political coordination should stay in the hands of an international coalition, with NATO confining itself to running day-to-day operations.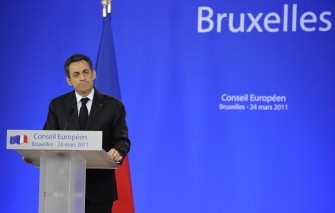 French President Nicolas Sarkozy speaks during a presser after an EU summit, early March 25, 2011 at the European Council headquarters in Brussels. AFP
"Everyone must understand that coordination must remain eminently political even if it rests on NATO machinery," Sarkozy told reporters at a two-day European Union summit.
That would enable non-NATO members, such as Arab partners, to take part in political decision-making, he said.
The Western powers leading the fight -- the United States, France and Britain -- have stressed the need to bring Arab nations into the campaign, but so far only Qatar and the United Arab Emirates have contributed jets.
"We have always said that Arab leadership and participation is crucial," said US Secretary of State Hillary Clinton.
London will host a conference next Tuesday to discuss coalition military action against Libya.
French Foreign Minister Alain Juppe said the meeting would bring together Britain, France, the United States and all other coalition partners plus the African Union, the Arab League, and "all interested European nations."
The United States has been eager to hand off control of the operation to someone else, but it will remain in charge of the bombing campaign until NATO decides whether to take over.
Talks to transfer control of the broader campaign to NATO will continue through the weekend with a decision expected by Monday, NATO officials said.
"We are considering whether NATO should take on that broader responsibility," NATO Secretary General Anders Fogh Rasmussen said.
"But that decision has not been made yet." He said he expected a decision "in the coming days."
Until then, NATO would not take part in action to destroy pro-Kadhafi military hardware unless forced to do so in self-defence.
"There will be a coalition operation and a NATO operation," Rasmussen said.
A senior US official nevertheless said NATO members had reached a "political agreement" to take over the military operations aimed at protecting civilians -- meaning strikes against Kadhafi's ground forces.
Those remarks by the official, who spoke to reporters on condition of anonymity, appeared to contradict Rasmussen.
But a diplomatic source earlier cautioned that details remain to be worked out due to Turkey's continued objections to strikes against Kadhafi's regime.
Prime Minister Recep Tayyip Erdogan denounced the coalition strikes.
"We have seen in the past that such operations are of no use and that on the contrary, they increase the loss of life, transform into occupation and seriously harm the countries' unity," he said.