An unexpected rise in company job losses fueled concerns about the strength of the US economic recovery, ahead of a key government labor report later this week.
US firms shed 23,000 jobs in March, payrolls firm ADP said in a report that was dramatically worse than market expectations.
Sensing a slow improvement in the health of the world's largest economy, investors had expected around 40,000 private-sector jobs to be created this month.
The private sector accounts for more than two-thirds of US employment and its payrolls are a widely watched barometer of the US recovery.
"Today's report is quite disappointing," said Thomas Julien of Natixis, echoing the letdown among many on Wall Street.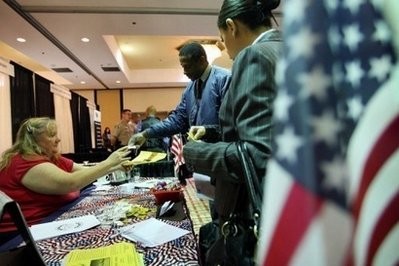 Job seekers talk to a recruiter at a career fair in Ontario, California
Investors are now waiting for official unemployment figures for March to be published on Friday, asking if they had been overly optimistic in suggesting the jobs market was about to turn a corner.
"This was a shocker that should raise some questions about Friday's employment report," said Joel Naroff of Naroff Economic Advisors.
Over eight million Americans have lost their jobs since the recession began in December 2007 and joblessness continues to drag on the fragile recovery, hitting everything from consumer spending to investor confidence.
Nearly one in 10 Americans in the job market is unemployed.
Facing voters' anger over high unemployment, the administration of President Barack Obama has insisted that inroads are being made, but that businesses will try to get the most out of current employees before expanding payrolls.
ADP also saw some underlying positives, saying its own figures may distort the true state of the labor market.
It pointed out that March's job losses eased slightly from February, when 24,000 jobs were shed according to a revised figure also published on Wednesday.
"The March employment decline was the smallest since employment began falling in February of 2008," it said, adding that severe winter weather may have also weighed on hiring levels.
Optimists still see the full March unemployment figures showing a dramatic uptick in employment, bolstered by the government's hiring of tens of thousands of workers to carry out the 2010 census.
"We continue to look for... payrolls to increase 250,000 in March, of which about half should be census hires," said Michelle Meyer of Barclays Capital, who also predicted a weather-related bounce-back would add 75,000 workers to the payrolls.
But Naroff warned even a positive report could prove misleading.
"Census hiring will turn into job losses later in the year," he said.
"State and local governments and school districts across the country are in desperate shape because the federal bailout is disappearing. They will likely be cutting jobs during the second half of the year," he added.
"You may not want to jump to any conclusions about the state of the labor market using the March numbers."
The stock market also showed pessimism. The Dow Jones Industrial Average ended Wednesday down nearly half a percentage point.