Sixteen people were killed and 25 still missing from the collapse of a bridge in west Nepal, police said Thursday, calling it a "miracle" the toll was not higher.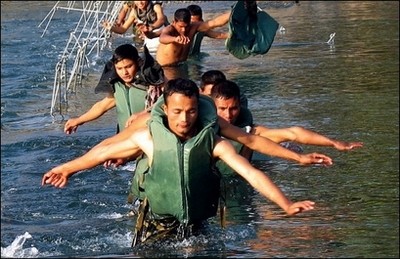 Nepalese soldiers search for missing people a day after a bridge collapsed over the Bheri River, in the Surkhet district of western Nepal, 26 December 2007 (Photo: AFP)
"There was panic at the scene when the bridge fell (on Tuesday) so initial estimates were too high. It's a miracle not a larger number of people died," district officer Anik Kumar Pandey said by telephone from the remote area.

Police had earlier said they feared hundreds of people had died when the 500-metre (1,650-foot) bridge plunged into the gorge 380 kilometers (240 miles) west of the capital Kathmandu.

Some 400 people heading for a religious ceremony were on the year-old suspension bridge over the Bheri river when one of its supporting pillars gave way.

But many who fell into the icy water managed to swim to safety, police said. Others scrambled to land after clinging on to the fallen bridge, only one-third of which was submerged.

"We've recovered 16 bodies and 25 people are still missing," Pandey said.

Hundreds of police and soldiers were still looking for the missing.

Officials believed the missing might have been swept downstream into the mainly agricultural countryside that surrounds the Bheri, one of Nepal's largest rivers.

The bridge was crowded with locals who going to a Hindu religious ceremony to celebrate the full moon.

Nepal has hundreds of small bridges in the rugged countryside that range from rope or wooden planks to steel and concrete.

The landlocked Himalayan nation is criss-crossed by dozens of rivers across one of the steepest topographies in the world.

The injured, mostly women and children, who were rescued from the site were treated in hospitals in nearby towns.