The Himalayan kingdom of Nepal was set for historic change Wednesday with a newly-elected assembly dominated by Maoist followers expected to abolish the nation's 240-year-old monarchy.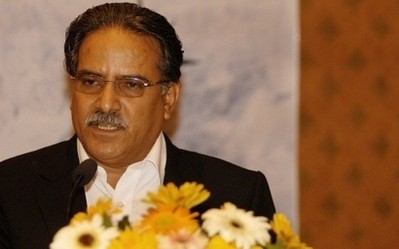 Nepalese Maoist leader Pushpa Kamal Dahal, known as Prachanda, at an event in Kathamndu on May 25. The Himalayan kingdom is set for historic change with an assembly expected to abolish the country's 240-year-old monarchy(AFP/File/Prakash Mathema)
Security was tight in the capital Kathmandu, with over 1,000 police ringing a conference centre where a Constitutional Assembly is expected to sack unpopular King Gyanendra and declare a republic later in the day.
Proceedings had been due to start at 11:00 am (0545 GMT), but security personnel at the site said closed-door meetings between senior politicians meant the session had been delayed until 3:00 pm (0945 GMT).
Kathmandu has been tense ahead of the event, the culmination of a peace process that brought the Maoists out of the hills and jungles of one of the world's poorest countries in 2006 and into the political mainstream.
The city was hit by a string of small bomb attacks this week, with police pinning the blame on die-hard royalists.
Hundreds of people also defied a ban on protests and gathered at the conference centre to press for an end to Gyanendra's turbulent seven-year reign over the landlocked Himalayan country.
"We are trying to put pressure to make sure they abolish the monarchy today," said a teary-eyed Julia Chitrakar, 45, a local women's rights activist.
"I can't even say how I feel today. In my lifetime such an event has never happened. It is big change that we have been waiting a long time for."
"We have started gathering 20,000 Young Communist League members in the Tundikhel," said YCL leader Sagar, who goes by only one name, referring to a large open space in the heart of the city.
Authorities have banned meetings in certain sensitive areas, including outside the palace -- apparently to protect the king from being dragged out by force.
The Maoists have told Gyanendra and his son Crown Prince Paras -- loathed for his alleged playboy lifestyle -- to bow out gracefully or else face "strong punishment."
Gyanendra was crowned following the 2001 killing of his popular brother Birendra and most of the royal family by a drink-and-drug-fuelled crown prince who later killed himself.
Although seen by loyalists as the reincarnation of a Hindu god, he remained at the centre of conspiracy theories linking him to the killings.
Gyanendra still enjoys some support from Hindu hardliners and powerful elements in the armed forces and ruling elite, but most observers say republican sentiment in the country is now overwhelming.
The former Maoists, who fought for 10 years to remove the king and create a republic, emerged as surprise winners in constituent assembly elections last month, taking a third of the body's 601 seats.
Wednesday's session of the assembly is expected to start with Nepal's elderly prime minister, Girija Prasad Koirala, proposing the implementation of a republic. The question will then be voted on.
"It will take quite some time. After the participating members have signed, we will have to count the votes," Manahor Prasad Bhattarai, acting general secretary of the constituent assembly, told AFP.
Once a simple majority in favour of abolition has been confirmed, the official end of the monarchy will be announced, Bhattarai said.
Gyanendra was still in the main Narayanhiti palace, and politicians are expected to give the monarch a deadline for leaving later Wednesday.