WASHINGTON, May 22, 2011 (AFP) - The United States and Israel are the closest of allies, the best of friends. Their leaders clearly are not.
The rocky ties between President Barack Obama and Prime Minister Benjamin Netanyahu hit a new low this week as the Israeli leader dismissively rejected Obama's Middle East vision and then proceeded to lecture him in the Oval Office.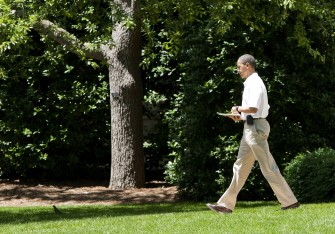 AFP - US President Barack Obama walks from the Oval Office carrying an iPad as he departs the White House for a game of golf in Washington on May 21, 2011.
And observers fear they could get worse as both take their cases to Washington's powerful pro-Israel lobby and Netanyahu prepares to address Congress, a move many see as an trying to rally US lawmakers against the president.
Netanyahu's willingness to incur Obama's enmity puzzled many, particularly with the Israelis desperately needing help from the US in heading off a bid by the Palestinians to have the United Nations recognize an independent state in September.
But Netanyahu said he had to stick up for Israel's crucial interests, and as such, he could not let the president's comments on the 1967 borders -- which Israel views as a significant shift in US policy toward the Palestinian stance -- pass without reaction.
"There are some things which can't be swept under the carpet," Netanyahu said, adding that he had to stand up for "issues that were of fundamental importance to the Israeli consensus.
It's not the first time summit meetings between the two have foundered dramatically.
In March last year, Netanyahu received a carefully coordinated dressing down from the White House as they pushed him to make concessions to the Palestinians in a bid to revive the peace talks.
There was an unusually opaque news blackout throughout the visit, no concrete achievements were reported and the Israeli leader was given none of the trappings usually reserved for visitors such as a photo opportunity and press conference.
Israeli media described it as a slap in the face and said he had been treated like a third-world dictator.
This time it was Netanyahu who adopted a combative approach, which included an Oval Office lecture to the president on the historic struggles of the Jewish people, which an unsmiling Obama watched from a nearby seat, one hand over his mouth, the other gripping the arm of the chair.
"By the way he comports himself he feels as if he is untouchable by Obama," said Israeli political analyst Yossi Alpher.
Alpher said his confidence came from the fact that with the peace process almost completely frozen, Netanyahu can't be pushed into unwanted concessions.
"I don't think he is so concerned about some huge row brewing when there is no peace process," he said.
Netanyahu also believes that with such strong support for Israel in the US, there are "red lines," that Obama won't cross, particularly opposition to the Palestinians unilateral bid for statehood and on the thorny issue of Iran.
But analysts said Netanyahu's reaction appeared to less about diplomacy than about local politics, both Israeli and American.
"He has too many people in his (hardline) coalition who are allergic to the 1967 borders, he had to do something," said Alpher.
And tensions between Obama and Netanyahu could rise further if Obama believes that Netanyahu is meddling in US politics.
On Sunday, Obama will address the powerful Israel lobby, the American Israel Public Affairs Committee (AIPAC).
Netanyahu will also speak to AIPAC, followed by a joint address to Congress, invited by Republican leaders who support his position.
"Obama suspects that what Netanyahu wants to do is appear before Congress and mobilize Congress against him," said Eytan Gilboa and expert on Israel-US relations from Bar Ilan University outside Tel Aviv.
"Netanyahu has to be very careful about it. Because any time Israel has attempted to send a message to the White House via Congress it has not worked," he said.
A senior Israeli official travelling with Netanyahu denied the prime minister was meddling in local politics, saying he "was not playing any games."
"Israel has a strong relationship with both (Democratic and Republican) parties and (Netanyahu) was going to meet with Congressmen on both sides," the official said.
Nevertheless, some said Netanyahu had gone too far.
"Netanyahu is making Israel pay too high a price to save his coalition and ensure his personal (political) survival," said Israeli opposition leader Tzipi Livni.
Others said he could lose popular support in the US.
"If I'm waking up this morning feeling that the Israeli prime minister is disrespecting the President of my country, imagine how other Americans might be feeling," wrote Jeffrey Goldberg in The Atlantic, calling Netanyahu's reactions a "hissy fit."
"Netanyahu needs the support of President Obama in order to confront the greatest danger Israel has ever faced: the potential of a nuclear-armed Iran. And yet he seems to go out of his way to alienate the President. Why does he do this? It's a mystery to me."