JERUSALEM, Sept 18, 2011 (AFP) - Israeli Prime Minister Benjamin Netanyahu said on Sunday that next week's bid by the Palestinians for UN membership had no chance of success and that they would ultimately seek renewed talks.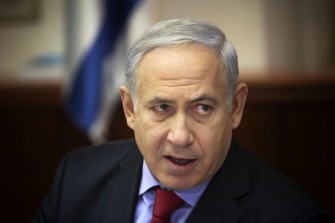 AFP - Israeli Prime Minister Benjamin Netanyahu (C) speaks during the weekly cabinet meeting in Jerusalem on September 18, 2011.
"Their attempt to be accepted as a member of the United Nations will fail," he said at the start of the weekly cabinet meeting. "That attempt will fail, since it has to pass through the Security Council."
President Mahmud Abbas has promised Palestinians he will seek UN membership from the Security Council next Friday, despite stiff opposition from Israel and the United States, who say that only direct negotiations can resolve the Israel-Palestinian conflict.
Washington, Israel's main ally, has already announced it will use its veto to block the Palestinian bid in the Security Council.
"As a result of the actions of the United States, which is working closely with us, and of other governments with which we and the Americans are working, I predict that this attempt will fail," Netanyahu said.
"In the end, after the smoke clears and after everything that happens at the UN, the Palestinians will come to their senses, I hope, drop these moves to bypass negotiations and return to the table in order to bring peace to us and our neighbours."
Netanyahu compared the Security Council to the UN's government, while the General Assembly, he said was more like a parliament.
"There you can pass almost any resolution," he said. "They could decide that the sun rises in the west and sinks in the east but it doesn't have the same weight and the same importance as the Security Council."
Netanyahu has said he too will go to the UN to explain Israel's opposition to the Palestinian move. Like Abbas, he is to speak on September 23, a government official said.
The White House says he is also likely to meet President Barack Obama in New York.
Peace talks between Israel and the Palestinians foundered nearly a year ago in a dispute over Israel's continued construction of Jewish settlements on occupied Palestinian land.