SYDNEY, June 25, 2010 (AFP) - Australia's new Prime Minister Julia Gillard defended her predecessor's ruthless ousting as "the right thing to do" Friday and set about fixing policy blunders plaguing the government as elections loom.
The country's first woman leader said a damaging mining tax row was top of her list at her first cabinet meeting, a day after supplanting Kevin Rudd in a quickfire party poll that stunned observers and left the ex-premier in tears.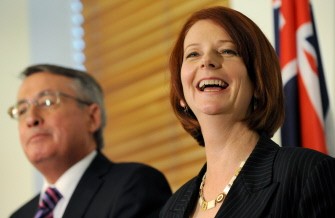 Australia's new prime minister Julia Gillard (R) smiles with new deputy prime minister Wayne Swann (L), in Canberra on June 24, 2010. AFP
Gillard was elected unopposed after Rudd stepped aside to avoid a humiliating defeat following a plunge in his popularity, less than three years after he led the party to a landslide election victory.
"They were not easy decisions. I have taken them because I thought they were the right thing to do," she told reporters.
"I felt it was in the best interests of the nation to get the government back on track."
The flame-haired, Welsh-born lawyer promised greater teamwork than Rudd, whose controlling tendencies alienated him in the party and finally cost him his job as his enduring public support came down from record highs.
But she denied being a puppet of Labor's factional powerbrokers widely credited with orchestrating the first unseating of a prime minister since Paul Keating deposed Bob Hawke in 1991.
"I can understand that the opposition and others will try and put a character on the events of recent days," she said.
"But... it is completely absurd for anybody to look at my track record in this place and to conclude anything other than that I have made my own decisions. I am a person of strong mind and I made my own decisions."
Gillard said it was her "priority" to deal with the planned 40 percent mining tax, which has incensed the influential resources industry and further sapped Rudd's support after he shelved his flagship carbon-trading scheme.
She said she had already discussed the tax with key ministers and hailed early progress after both the government and the miners called a truce and agreed to cancel their TV campaigns respectively for and against the levy.
"My priority is to ensure that we deal with the question of the mining tax," she said. "It has caused uncertainty and I think that uncertainty has caused anxiety for Australians.
"I want to make sure Australians get a fair share of our mineral wealth but I want to genuinely negotiate."
She said she had spoken to US President Barack Obama and assured him of Australia's commitment to keep troops in Afghanistan, and would also "introduce herself" to other world leaders including British Prime Minister David Cameron.
Her appointment met with a quiet international response on Thursday with Obama, Indonesian President Susilo Bambang Yudhoyono and New Zealand Prime Minister John Key among the few to offer congratulations.
Meanwhile Australian media picked over the extraordinary events and warned that Gillard needed to keep her distance from Labor's backroom factional chiefs.
"What a day," said the Sydney Morning Herald's front page, while a comment piece's headline cautioned, "If in doubt throw another leader on the barbie."
"I think she needs to be careful," former Labor leader Mark Latham told Sky News. "The moment Gillard's popularity drops, as inevitably it will -- the honeymoon will end -- I suppose she'll be the next one for the knife."