ATHENS, June 29, 2011 (AFP) - Clashes erupted Wednesday between protestors and police firing tear gas in several parts of Athens ahead of a vote in parliament on austerity measures aimed at preventing a Greek debt default.
On the second day of a 48-hour general strike, demonstators say they are determined to surround parliament to prevent deputies from voting on the 28.4 billion-euro ($40.8 billion) the first part of a package of taxes, spending cuts and sell-offs that is scheduled to take place around 2:00 pm (1100 GMT).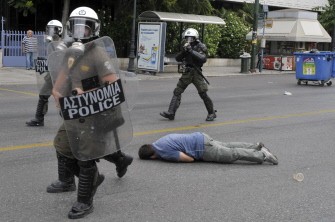 A demonstrator lies on the ground as riot police police disperse protestors who tried to block roads leading to the Greek Parliament during a 48-hour general strike in Athens on June 29, 2011.
The measures are deemed crucial for Greece to secure international aid to stave off bankruptcy, which is threatening the stability of the eurozone.
Early Wednesday police drove back a first wave of around 400 demonstrators in front of the Hilton hotel in central Athens, who were making their way towards Syntagma square, where parliament is located, and dispersed them with tear gas, witnesses said.
Pockets of demonstrators clashed with police in various other parts of the capital, they added.
Angry workers on Tuesday launched a 48-hour general strike, which brought about blanket power cuts and ground transport in the capital to a halt in a bid to dramatise their opposition to the austerity measures.
Demonstrators have said their goal is to surround parliament later in the day. They were beaten back and prevented from doing so during a previous attempt on June 15, during the last general strike.
Parliament, where Prime Minister George Papandreou's Socialists have a five-seat majority, has come under intense international pressure to adopt the austerity measures which will be voted over two days, Wednesday and Thursday.
New IMF chief Christine Lagarde has urged opposition lawmakers to support the government and vote for the package, saying Tuesday the austerity measures were needed to save Greece's "destiny".
EU president Herman Van Rompuy said approval of the package was "crucial for the Greek people, but also for the eurozone and the stability of the world economy."
The new measures were drawn up to meet European Union and International Monetary Fund conditions for further bailout support, after a 110-billion-euro rescue last year.
If passed, these creditors could authorise as early as Sunday 12 billion in blocked funds needed to stave off bankruptcy for the Athens government when massive repayments fall due in mid-July.
They would then thrash out the other sticking points holding up a second bailout -- how much banks and other private creditors will contribute by way of a 'rollover' of existing debts, and the amount Greece also has to come up with through privatising national utility and land holdings.
On the first day of the general strike Tuesday police used tear gas to prevent some 10,000 protestors from marching on parliament.