Hillary Clinton is "on track" to be Barack Obama's secretary of state, both sides said Friday, while reports said New York central banker Timothy Geithner was set to be named Treasury chief.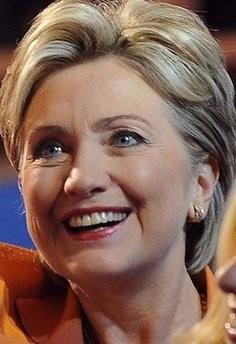 Hillary Clinton during the 2008 Democratic National Convention in Denver, Colorado. Clinton is "on track" to be Barack Obama's secretary of state while New York central banker Timothy Geithner was set to be named Treasury chief, reports have said(AFP/File/Stan Honda)
The president-elect's heavy-hitting cabinet took shape on a day of frenzied reports and speculation, 60 days before Obama takes the oath of office and at the end of another punishing week for the US economy.
One report said that Clinton had already decided to accept an offer to become the face of US diplomacy abroad.
"She's ready," the New York Times quoted an unnamed Clinton confidant as saying, adding that the former first lady had made her decision after follow-up consultations with Obama on his vision for foreign policy.
Senior Clinton advisor Philippe Reines downplayed the report, while suggesting that the process of vetting the Clintons, and moving towards an agreement with Obama, was going well.
"We're still in discussions, which are very much on track. Any reports beyond that are premature," Reines told AFP.
An Obama aide also said things were "on track" but said there were no plans for a formal announcement on Clinton's appointment until after the Thanksgiving holiday next Thursday.
NBC News meanwhile reported that Obama would roll out Timothy Geithner at a news conference on Monday, and also unveil the rest of his economic team, including New Mexico Governor and ex-UN ambassador Bill Richardson as commerce secretary.
The report bucked up investors left shellshocked by another week of carnage on the stock markets, with New York's Dow Jones share index jumping nearly 500 points on the news.
The Obama team refused to comment on the report, which was echoed by ABC News, CNN and Fox News.
Geithner, 47, is well known to Wall Street from his role as New York Federal Reserve chief and was a career official at the Treasury Department from 1988 to 2001, serving under three administrations and rising to undersecretary for international affairs.
As the successor to Republican Henry Paulson, Geithner would become the overseer of a 700-billion-dollar bailout package for distressed banks at a time when the world's largest economy is staring at recession.
More speculation about the president-elect's emerging cabinet on Friday surrounded former four-star general and NATO chief James Jones, after ABC News said he was a top candidate to become national security advisor.
Jones is respected on Capitol Hill and across the political aisle, and may be particularly sought by Obama for his expertise on the Afghan war, which the president-elect has vowed to make a priority during his administration.
The Clinton nomination, the subject of fierce speculation since the former first lady flew to Chicago to meet Obama last week, moved forward after financial disclosure issues were worked out with ex-president Bill Clinton.
Some analysts had expressed fears that the former US leader's myriad business interests abroad and donor lists to his charitable foundation could pose a conflict of interest if his wife became secretary of state.
The idea of making Clinton secretary of state has been welcomed across the political spectrum, and sparked talk of a "team of rivals" cabinet modeled on that of Obama's hero Abraham Lincoln.
But some commentators have wondered whether uniting two such bold political egos as those of Obama and Clinton could be destructive and foster political infighting.
Obama, who has spent most of his time cloistered in his Chicago transition headquarters since his historic victory on November 4, has been methodically filling out his White House staff without formally naming cabinet appointees.
But a Democratic official said that former Senate majority leader Tom Daschle will serve as health and human services secretary and be charged with the formidable task of pushing through healthcare reform.
Reports also indicated that Arizona Governor Janet Napolitano would serve as secretary for homeland security, and former Justice Department official Eric Holder is in line to be attorney general.
There is also speculation that Obama will ask President George W. Bush's defense secretary, Robert Gates, to stay on at the Pentagon to oversee the early unwinding of the Iraq war.