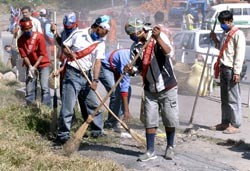 Nepalese rebels take part in a clean up campaign in Kathmandu, Nov. 1, 2006. Swapping guns brooms and shovels, hundres of rebels have started a clean-up campaign in Nepal's polluted and often filthy capital as part of their bid to gain wider respectability. (AFP Photo)
Nepal's peace process appeared close to a breakthrough Monday with the rebels saying ahead of a new round of negotiations that they were ready to place their arms under United Nations observation.
"The talks on arms management have been very positive and there may be a breakthrough Monday," said Home Minister Krishna Prasad Sitaula, the government's top peace negotiator.
The rebels, who have led a deadly 10-year insurgency in Nepal, were also were upbeat, with spokesman Krishna Bahadur Mahara telling AFP: "There is a high chance that the talks could be successful."
On Sunday, rebel leader Prachanda said on state-run television that his fighters, who control large swathes of the countryside, would place their weapons under the watchful eye of UN monitors.
"We have agreed to lock-up our People's Liberation Army weapons at one location. We will keep the key. The United Nations will monitor the locked-up weapons of both sides," he said.
Local media welcomed the news on Monday, with the Kathmandu Post running the front-page headline: "Finally, there's a deal on weapons."
The disarming of the rebels had been a sticking point in the six-month-old peace process aimed at ending a bloody conflict that has claimed at least 12,500 lives in the Himalayan nation.
The agreement signals that the rebels are serious about peace, said Indrajiit Rai, a conflict expert who teaches military science at the Nepal Army staff college.
"By agreeing to lock up the weapons, the Maoists have shown they are keen to reach a peaceful political settlement," Rai told AFP.
"If the two sides reach a deal Monday, it will be a guiding force towards establishing lasting peace. The deal will also pave the way for holding free and fair constituent assembly elections," the academic said.
Prachanda met Sunday with United Nations special envoy Ian Martin and Prime Minister Girija Prasad Koirala -- talks that left both sides upbeat about Monday's negotiations.
UN Secretary General Kofi Annan appointed a special representative to Nepal after the two sides invited the world body to assist in the peace process.
Since declaring a ceasefire in May, the two sides have held two rounds of high-level peace talks.
This is the third time they have tried to hammer out a peace deal. Two previous attempts, one in 2001 and one in 2003, both failed, plunging the country back into conflict.