Japan's new prime minister Yoshihiko Noda on Friday named a youthful cabinet lacking the usual political heavyweights, as he attempts to unite a divided party and safeguard a fragile post-quake recovery.
Japan's sixth new leader in five years gave the key posts of foreign and finance ministers to two allies in their 40s, considered young in Japanese politics for such roles.
In his inaugural press conference as prime minister after his cabinet was sworn in by Emperor Akihito, Noda pledged to speed up efforts in post-quake reconstruction and resolving the Fukushima nuclear crisis.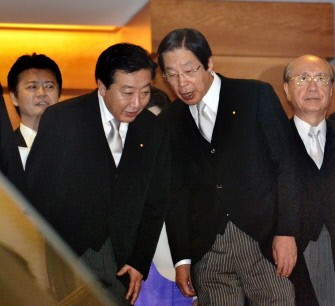 New Japanese Prime Minister Yoshihiko Noda (L) listens to Agriculture Minister Michihiko Kano (R) as they head to a photo session at the prime minister's official residence in Tokyo after their first cabinet meeting on September 2, 2011.
"Without the rebirth of Fukushima, there will not be a rebirth of Japan," Noda said. He added that it would be "difficult" to build new reactors in the aftermath of the disaster but offline units should restart if deemed safe.
The position of finance minister went to relative unknown Jun Azumi, 49, against expectations Noda would pick a veteran from his ruling Democratic Party of Japan (DPJ) to wrestle with the world's biggest debt burden.
Koichiro Gemba, 47, becomes foreign minister.
Some party bosses, including former foreign minister Katsuya Okada, reportedly rejected Noda's offer of key posts, while analysts said his choices were aimed at appeasing factions rather than building on individual experience.
Noda has pledged to be a peacemaker in the ruling centre-left DPJ, which is deeply split between supporters and foes of veteran powerbroker Ichiro Ozawa, indicted in a political funding scandal.
In doing so he is hoping to regain momentum lost since the DPJ ended half a century of conservative rule with their 2009 poll win, and help drive recovery from the March disasters that left more than 20,000 dead or missing.
He inherits daunting challenges of disaster recovery, a nuclear crisis, a soaring yen and huge public debt. Analysts question his chances of overcoming a revolving door of political leadership.
Azumi, from the northeastern prefecture of Miyagi that was devastated by the earthquake and tsunami, was a reporter for the state broadcaster NHK before entering politics.
Seen as having strong ties with the opposition, he faces tough tasks in shielding the economy from a yen hovering near postwar highs and addressing a ballooning public debt as an ageing population increases social security costs.
"Azumi is likely to follow Noda's financial policy and to be controlled by finance ministry bureaucrats," said Tetsuro Kato, professor of politics at Waseda University in Tokyo. Noda intervened three times to weaken the yen as finance minister.
Azumi on Friday stressed the importance of a third extra budget to finance the full-scale reconstruction of the disaster zone and warned the public would have to share some of the burden.
Gemba, the new foreign minister, was state minister for national strategy in the outgoing cabinet. He will be tasked with handling protracted discussions over the relocation of a US military base on the southern island of Okinawa.
Japanese diplomacy was heavily tested last year by territorial disputes with China and Russia.
In his press conference Noda vowed to deepen ties with both countries, as well as South Korea and key ally the United States.
He also said he would not visit the controversial Yasukuni war shrine, which honours Japan's war dead, despite past remarks that were seen to support Japan's war criminals.
Yoshio Hachiro, 63, was named Minister of Economy, Trade and Industry. Motohisa Furukawa, 45, takes on the post of national strategy minister and minister for economic and fiscal policy.
Goshi Hosono, 40, will continue overseeing the resolution of the Fukushima crisis as environment minister in charge of the nuclear power plant disaster.
The cabinet features two women -- Renho, 43, who goes by one name, and health minister Yoko Komiyama, a 62-year-old former NHK anchorwoman.
Noda's predecessor Kan resigned after 14 months in office under fierce criticism of his administration's handling of the earthquake aftermath.
Tens of thousands remain evacuated as a result of the Fukushima nuclear crisis, which has made some rural areas uninhabitable for years while contaminating food supplies, some of which have entered the market.
Noda aims to pass a third budget, expected to amount to more than 10 trillion yen ($130 billion), to pay for post-March 11 reconstruction as he looks to revive an economy that has contracted for three straight quarters.
He has advocated higher taxes to fund Japan's post-quake rebuild and help tackle a debt running at more than 200 percent of GDP.