US President Barack Obama and other western leaders welcomed Libya into a new era back in the United Nations but warned that foreign military help will be needed for a while yet.
The former rebel leaders who deposed deposed Moamer Kadhafi got a new diplomatic boost when the African Union finally recognized their National Transitional Council, while they announced that a new government should be announced within a week.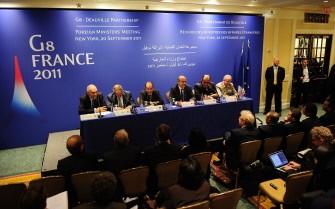 French Foreign Minister Alain Juppé (3R) addresses a press conference after a G8 Deauville Partnership Ministerial Meeting, in New York, September 20, 2011
With the new Libyan flag flying at the UN headquarters, interim government leader Mustafa Abdel Jalil thanked all nations who contributed to the "success of the Libyan revolution," which he revealed had left at least 25,000 dead.
At a special summit, the United Nations and world leaders promised to help the new government with its campaign to take the remaining territory held by Kadhafi fighters and to move towards democracy and free elections.
Obama said that "so long as the Libyan people are being threatened, the NATO-led mission to protect them will continue."
But the US president said he has ordered the US ambassador back to Tripoli and he added: "Those still holding out must understand -- the old regime is over, and it is time to lay down your arms and join the new Libya."
He stressed there must be a democratic transition after four decades of one-man rule that is "peaceful, inclusive and just." Libyan number two Mahmud Jibril said he expects the first post-Kadhafi government to be named in less than 10 days.
The US president described Libya as "a lesson in what the international community can achieve when we stand together as one."
French President Nicolas Sarkozy also vowed to keep up action in support of Libya's new government as long as it was needed.
He made a plea for support for all of the Arab countries where people have stood up against strongarm leaders, saying it had given the international community a "responsibility to take action."
Sarkozy said that international military action in Libya and Ivory Coast this year should be a warning to other strongarm leaders.
"Let all dictators be aware that henceforth the international community is not just going to speak, but will take action and where necessary will take action, if necessary with weapons in their hands in the service of democracy," he told the summit.
"We, the European countries, tolerated regimes that we should never have tolerated," Sarkozy said.
"I have confidence in the future of Libya. There will be highs and lows, but no one can turn their backs on those who freed themselves with weapons in their hands," Sarkozy declared.
Jalil told the summit how the revolution had left 25,000 "martyrs" and at least 50,000 wounded during the eight months of fighting.
But he thanked the United Nations, which passed sanctions against Kadhafi, and all the countries that helped "the success of the Libyan revolution."
Without mentioning the NATO airstrikes, he said the international assistance had been crucial because of the "huge amount of weaponry that Kadhafi deployed against his people."
Jalil vowed the new Libya would be a "vibrant" democracy that respects regional peace and security.
Obama and UN leader Ban Ki-moon, who had private meetings with Jalil, urged him to make sure that abuses against black African immigrants were ended.
The NTC chairman said many Kadhafi regime members had been detained and some had been freed again. Many would face justice but Jalil insisted all would get a "fair trial."