TOKYO (AFP) – Further trouble for Japan's auto industry emerged Thursday as embattled giant Toyota suspended worldwide sales of its Lexus GX 460 sport utility vehicle and Mazda announced a recall of 90,000 cars.
Toyota, the world's biggest automaker, said it would suspend worldwide sales of its Lexus GX 460 due to a rollover risk at high-speed, and would protectively conduct safety tests on all its SUVs.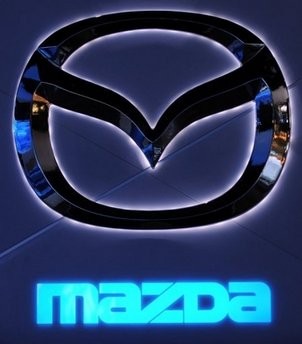 (AFP file) Further trouble for Japan's auto industry emerged as embattled giant Toyota suspended worldwide sales of its Lexus GX 460 sport utility vehicle and Mazda announced a recall of 90,000 cars.
Mazda Motor, which is part owned by US giant Ford, also said Thursday it would recall nearly 90,000 passenger cars domestically and in China due to an oil hose defect.
For Toyota, the latest move followed its suspension of GX 460 sales in the United States and Canada Wednesday after US magazine Consumer Reports gave the SUV a rare "Don't Buy: Safety Risk" rating.
"The company has decided to suspend the SUV's sales worldwide, which means also in Russia and Middle East after North America," said Toyota spokeswoman Mieko Iwasaki, in reference to the other markets where the vehicle is sold.
In the latest blow to the auto giant's reputation, the report claimed that when pushed to its limits, the rear of the GX "slid out until the vehicle was almost sideways before the electronic stability control system was able to regain control".
Having now suspended GX sales worldwide, Toyota said it will work on identifying potential safety risks in the model which has sold 6,000 units, as well as its other SUVs.
"We are in the middle of analysing what the problem is. Once it becomes clear, the company will decide whether to recall and repair the cars," Iwasaki said. Concerned GX 460 owners will be offered a loan car in the interim.
The automaker will also "start testing all the other SUV models, including the Land Cruiser, Land Cruiser Prado and RAV 4," she said, adding that Toyota will continue to sell those models.
Toyota shares closed down 0.80 percent in Tokyo trade following the announcement.
Mazda, which vies with Mitsubishi for the rank of Japan's number four car maker, said it will start recalling 35,181 units in Japan and around 54,000 in China of the Mazda 3, known as the Axela in Japan, its most popular model.
The company said the cars, produced from January 2006 to March 2009, have been recalled because an oil hose and a radiator shroud panel have been placed too close together and may be damaged by friction when travelling on bumpy terrain, leading to potential leaks.
A company spokesman said Mazda received two complaints, both in China, and stressed that no related accidents had been reported.
The Mazda 3 compact car is widely sold in Japan, China and Europe but the recalled version is not available in the United States, said the company.
No decision had yet been taken if the recall will affect other regions such as the European market, the spokesman said.
The new developments illustrate the challenge for automakers to regain consumer confidence in the wake of Toyota's recall of more than eight million cars worldwide since late 2009, mostly for brake and accelerator issues.
Toyota, which overtook General Motors in 2008 as the world's top seller, has been bedevilled by a series of safety issues that have raised questions about whether it sacrificed its legendary quality to become world number one.
The recalls have caused an outcry in the United States, with Toyota executives hauled over the coals in the US Congress and the company's previously stellar reputation for safety left in tatters.
The automaker has been hit with at least 97 lawsuits seeking damages for injury or death linked to sudden acceleration and 138 class action lawsuits from customers suing to recoup losses in the resale value of Toyota vehicles.
The company faces a record 16.4-million-dollar fine in the United States for its failure to notify authorities quickly about vehicle safety problems.