North Korea on Thursday seized a stray South Korean fishing boat and its four crew members, officials said, ratcheting up tensions after a week of aggressive sabre-rattling from the communist regime.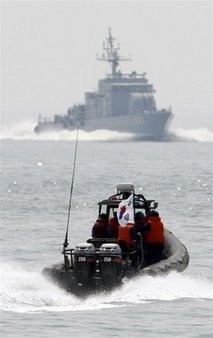 South Korean Navy vessels patrol in disputed waters with North Korea, in May. (AFP Photo)
South Korea called for the immediate return of the crew and squid fishing vessel, a 29-ton boat called the "800 Yeonan", but there was no immediate response from the North.
The seizure of the boat follows threats by Pyongyang to retaliate against sanctions imposed after recent nuclear and missile tests, and a warning of "all-out war" ahead of US-South Korean military drills next month.
The 800 Yeonan was towed by a North Korean patrol boat after it strayed into the North's waters at 6:27 am (2227 GMT Wednesday), South Korea's Joint Chiefs of Staff office said.
The South Korean boat was presumed to have sailed off course owing to a faulty global positioning system, and was being taken towards the North's eastern port of Jangjon, it said.
"We immediately radioed to the North Korean navy, requesting the return of the stray South Korean fishing boat, but there was no response," a spokesman at the office told AFP.
Seoul's unification ministry also demanded that the boat and its crew be returned "as soon as possible" in a telephone message to the North, spokesman Chun Hae-Sung told reporters at a briefing.
While Pyongyang's rhetoric has been especially bellicose of late, the rival Koreas do have a record of returning fishing vessels that err onto the wrong side of the disputed maritime border.
Two South Korean fishing boats -- one in April 2005, and the other in December 2006 -- returned home soon after accidentally straying into North Korean waters, according to Yonhap news agency.
Tensions on the Korean peninsula have soared following the communist state's missile and nuclear tests, which resulted in tougher UN sanctions and a renewed standoff with the United States.
The weekend warning of "all-out war" from North Korean defence minister Kim Yong-chun came ahead of the August 17-27 Ulchi Freedom Guardian drill, an annual exercise between the US and South Korean militaries.
The drill "lays bare the black-hearted aim lurking behind 'peacekeeping' and 'dialogue'", the North's Korean Central News Agency said.
Pyongyang has blamed the deterioration in relations on South Korea's conservative President Lee Myung-Bak, who took office in 2008 promising a tougher stance towards the North.
Pyongyang quit six-party talks aimed at ending its nuclear weapons programme after the UN Security Council censured it for a long-range rocket launch in April. Its second nuclear test followed a month later.
The Security Council has since imposed tougher sanctions, including an expanded arms embargo and beefed up inspections of air, sea and land shipments going to and from North Korea.
The United States has urged the international community to continue to pressure North Korea to return to the six-party talks -- made up of the two Koreas, the US, China, Japan and Russia.
But North Korea, declaring the multilateral talks "dead", this week reaffirmed its demand to deal with the United States directly.
Despite Washington's categorical rejection of that bilateral approach, UN chief Ban Ki-moon on Wednesday voiced support for North Korea's call.
"I am encouraged by the willingness of DPRK (North Korea) authorities to engage in direct dialogue with the United States," the former South Korean foreign minister said.
"While I believe the six-party talks still can provide a good way for solution through dialogue, if necessary there should be some other form of dialogue," Ban told a press conference.