Thailand's new government began working on its cabinet line-up Tuesday, as hundreds of police stood guard to prevent disruptions from angry supporters of the old administration.
The Democrat Party managed to win over enough lawmakers previously aligned to the former ruling party to clinch a parliament vote Monday nominating its leader Abhisit Vejjajiva as the new prime minister.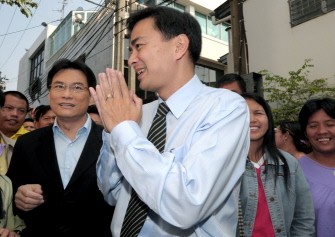 Thai Prime Minister Abhisit Vejjajiva greets supporters at the Democrat party in Bangkok on December 16, 2008. (AFP Photo)
His appointment came nearly two weeks after a court dissolved the ruling People Power Party (PPP) linked to ousted premier Thaksin Shinawatra, ending a crippling siege of Bangkok's two airports by an anti-government group.
Democrat Party secretary general Suthep Tuagsuban vowed that the new cabinet would strive to boost the economy, which has been battered by more than six months of protests that peaked with the airport seizures late last month.
"Abhisit will oversee the economic team because this government gives priority to economic matters," Suthep told reporters.
He said cabinet positions were still being hammered out and would be divided up between the Democrats and their smaller coalition partners, whose defection from the now-dissolved PPP gave Abhisit his slim majority.
The 44-year-old Oxford graduate is awaiting the official decree from the king in the coming days installing him as Thailand's 27th premier, and said only that he was "preparing for work."
As Democrat leaders met behind closed doors, about 300 police stood guard outside their Bangkok headquarters where dozens of supporters of Thaksin dressed in red shirts had gathered to denounce Abhisit's election.
"Police have deployed forces at the Democrat headquarters since Monday, and this morning (Tuesday) we will send more police there," said Major General Amnuay Nimmano, deputy metropolitan police commander.
Clashes broke out between police and the "red shirts" on Monday, after about 100 protesters gathered outside parliament and hurled traffic barriers and stones to try to block the main gate to the building.
There were about 40 protesters outside the Democrat headquarters on Tuesday, and they left after representatives of a pro-Thaksin group laid a wreath, denouncing the party as a puppet of the army.
Analysts say the Democrats, who lost the elections in December last year to the PPP, will have a tough time reconciling Thailand's opposing factions who support or detest Thaksin, who was removed in a coup in September 2006.
Many of Thaksin's supporters feel they were robbed of their democratic rights after the courts removed two PPP prime ministers this year and then dissolved the party, creating the opening for the Democrats to fill the void.
"The 'red shirts' with Thaksin behind the scenes will try to mobilise. This brings us back to the cycle of crisis and confrontation," said political analyst Thitinan Pongsudhirak.
Monday's vote followed six months of disruptive and at times bloody protests by the anti-Thaksin People's Alliance for Democracy (PAD).
The week-long PAD blockades of the airports left up to 350,000 passengers stranded and badly hit Thailand's economy.
Protests also forced the government to postpone a December summit of regional bloc the Association of Southeast Asian Nations (ASEAN), but the foreign ministry announced Tuesday it would now be held February 24-26.
PAD supporters claimed the previous government was running the nation on behalf of Thaksin. The twice-elected telecoms tycoon remains in exile abroad to avoid corruption charges.
Thaksin had alienated elements of the old elite in the palace, military and bureaucracy, who saw his popularity as a drain on their power.
British-born Abhisit, an urbane politics graduate, had repeatedly failed to connect to Thaksin's support base among the rural and city-dwelling poor.