BANGKOK, Dec 18, 2008 (AFP) - Thailand's new prime minister, Abhisit Vejjajiva, vowed Thursday to visit the poor northeast, a stronghold of ousted premier Thaksin Shinawatra, where he has struggled to win support.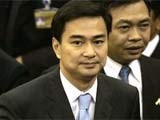 Thai prime ministe Abhisit Vejjajiva
British-born Abhisit, an urbane Oxford graduate whose name means "privileged," lost elections a year ago after failing to make any dent in Thaksin's support base in the populous northeastern region known as Isan.
He was finally voted into power Monday during a special parliament session after a court dissolved the Thaksin-linked ruling party and Abhisit's Democrat Party lured small parties and defecting MPs to their side.
Abhisit has said his cabinet list will be ready Thursday and will be unveiled after royal approval, likely on Friday.
He told a Thai army-run TV station that he was ready to reach out to people who did not vote for him.
"When the appropriate time comes and I have a mission, I will travel there," he said, referring both to Isan and to Thaksin's northern home town of Chiang Mai.
Twice-elected Thaksin was overthrown in a military coup in September 2006 and although he lives in exile to escape a jail term on corruption charges, Thailand remains deeply divided between his supporters and detractors.
Groups linked to the previous People Power Party (PPP) government have accused the Democrats of colluding with the army to patch together a shaky coalition, and have labeled the dissolution of the PPP a "silent coup."
They have vowed to protest when Abhisit delivers his policy address at parliament next week.
"In a democratic society they can rally with placards to express their demands, but they should not intend to hurt or kill me -- that will not help anyone," Abhisit said.
The Bangkok Post newspaper Thursday quoted powerful army chief General Anupong Paojinda as saying the army planned to send soldiers to the northeast to try to soothe tensions.
"Basically, I love Isan people," the general said.
"We can't force them to love certain people. If they get angry, we have to talk to them calmly. And I want to talk with them. Soldiers can go into the local areas and talk to people there."