TUNIS (AFP) – Tunisia braced Friday for public reactions to a shake-up of the cabinet aimed at quelling huge daily protests that have called for a clean break with the regime of ousted president Zine El Abidine Ben Ali.
Following days of tense negotiations, Prime Minister Mohammed Ghannouchi on Thursday said he was staying on but replaced five ministers from Ben Ali's last government whose retention of key posts had been decried by protesters.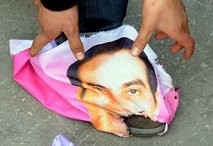 AFP – A man wipes his shoe with a picture of ousted Tunisian president Zine El Abidine Ben Ali during a protest.
"This is a temporary government with a clear mission -- to allow a transition to democracy. Its mission is to organise elections," Ghannouchi said on state television.
New ministers were appointed to the key foreign, defence and interior posts.
Kamel Morjane was replaced as foreign minister by Ahmed Ounais -- a Paris-educated career diplomat and former ambassador to Moscow and New Delhi.
Farhat Rajhi, a former chief prosecutor, was appointed as interior minister and Abdelkarim Zebidi, a medical professor, took over defence.
Hundreds of protesters who have camped out in front of Ghannouchi's offices for five days in defiance of a curfew and a ban on rallies applauded when they heard the news, but some of them still called for Ghannouchi himself to quit.
Tunisia's main trade union, which played a key role in anti-Ben Ali protests and has led opposition to the cabinet unveiled after his ouster, said it would not be joining the new line-up but approved of Ghannouchi staying in power.
Tunisia experts were divided over the significance of the reshuffle.
"These were stalwarts in the old regime. It's not going to wash. The street won't like it," said George Joffe, a research fellow at Cambridge University.
He warned that Ben Ali's Constitutional Democratic Rally (RCD) party was playing for time before staging a comeback in the upcoming elections.
"It may be discredited but it's got the organisation that other parties don't have," he said, adding that approval of the new line-up from the UGTT leadership was not necessarily shared by "much more radical" local branches.
Mokhtar Boubakar, a university lecturer and former trade unionist in Tunis, gave a much more upbeat assessment of the changes, saying: "It's a step forward. We have chased away the most symbolic RCD ministers."
Ghannouchi, who resigned from the RCD party last week in an attempt to quell public anger, has served as prime minister since 1999 and has said he would resign only after the country holds its first democratic elections.
He says the vote could be held within six months but has not given a date.
The government has unveiled unprecedented democratic freedoms but has struggled to restore order as the 23-year authoritarian regime crumbles.
There were protests on Thursday in the capital Tunis as well as in Sidi Bouzid, a poor rural town in central Tunisia where rallies against Ben Ali's regime began last month and escalated into a national movement.
Rached Ghannouchi, the leader of the popular Ennahdha (Awakening) Islamist movement, meanwhile prepared to return to Tunisia on Sunday after more than 20 years of forced exile, a spokesman for the movement in Paris told AFP.
The Islamist still officially has a life sentence hanging over him but in practice convicted political exiles have returned freely in recent days.
He founded Ennahdha in 1981 and says it is now a moderate force similar to Turkey's Justice and Development Party (AKP) that will take part in elections.
The ripples of the Arab world's first popular revolt in recent history have been felt across the region, where difficult social and economic conditions have created widespread popular discontent against long-established regimes.
Tunisia's government has moved quickly to grant unprecedented democratic freedoms, including lifting strict controls on the media, releasing political prisoners and legalising previously banned political parties.
It has also frozen Ben Ali's assets and issued international arrest warrants for the ex-ruler and six members of his once all-powerful family on charges of illegal transfers of funds abroad and illicit acquisition of assets.
Ben Ali has fled to Saudi Arabia and other family members have scattered.