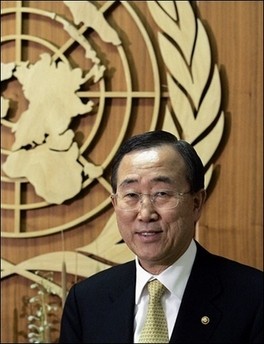 Mr. Ban-Ki-Moon (AFP Photo)
South Korean Foreign Minister Ban Ki-Moon has been officially nominated as the next UN Secretary General. Japan's UN Ambassador Kenzo Oshima made the announcement following a private meeting of the UN Security Council.
Mr Ki-Moon will take up his new position on January 1 when current Secretary General Kofi Annan's second five-year term comes to an end.
Under the UN Charter the 15-member Security Council will now make its recommendation to the 192-member General Assembly, which must give final approval.
Mr Ki-Moon expressed gratitude for being nominated and said he would work to resolve the crisis over North Korea's nuclear programme.
He said he would "contribute as much as I can to the resolution of all kinds of problems including the North Korean nuclear issue that may threaten international peace and security."
Mr Ki-Moon had been favourite for the top UN post.
Shashi Tharoor, 50, an Indian author and the UN Undersecretary General for public information was also a popular contender.
Source: AFP