PARIS, April 16, 2011 (AFP) - French Foreign Minister Alain Juppe said Saturday that a new United Nations resolution to push Libyan leader Moamer Kadhafi into quitting was unnecessary.
"We think that given his behaviour, his savage repression of the population, Kadhafi has lost all legitimacy to stay in power," Juppe told journalists in Paris.
"That is the view of the United States, of Great Britain, of the 27 member states of the European Union, of the Arab League, and there is no need for a new Security Council resolution to enact this principle."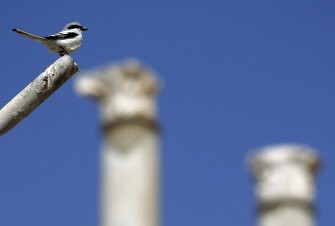 AFP - A bird perches on a pole at the ancient ruins of Leptis Magna, listed as a UNESCO World Heritage Site, in the Libyan coastal city of Lebda on April 15, 2011.
The current resolution "fixes the boundaries of the current intervention in Libya and we are applying it strictly," Juppe said, speaking on the sidelines of a conference on the Arab uprisings staged by his ministry.
On Friday French Defence Minister Gerard Longuet said Britain, France and the United States are thinking beyond the UN resolution authorising action to protect Libyan civilians and now seek regime change.
Speaking after the leaders of the main Western allies declared that it would be "unthinkable" for the Libyan leader to remain in power, Longuet admitted that Resolution 1973 "does not address the future of Kadhafi.
"But I think that when three great powers say the same thing, it's important for the United Nations, and perhaps one day the Security Council will make another resolution," he added.
Longuet brushed aside a widening divide in the international community over how to deal with the Libyan crisis, arguing that countries such as Russia, China and Brazil "will naturally drag their feet."
"But which of the great countries can accept that that a head of state can resolve his problems in training cannon fire on his own population? No great power can accept that," he argued.