The United States unveiled new limits on the nation's nuclear arsenal Tuesday, saying it would only use atomic weapons in "extreme circumstances" and would not attack non-nuclear states.
In a policy shift, the United States said for the first time that countries without atomic weapons that complied with non-proliferation treaty obligations need not fear a US nuclear attack.
But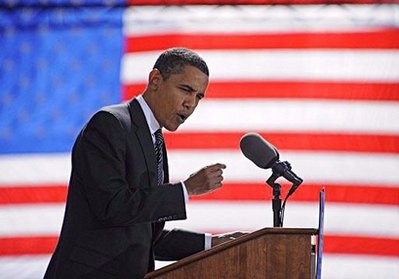 US President Barack Obama

warned exceptions could be made for "outliers" such as Iran and North Korea, both accused of flouting UN resolutions.

"Indeed, the United States wishes to stress that it would only consider the use of nuclear weapons in extreme circumstances to defend the vital interests of the United States or its allies and partners," a new policy document said.

The Nuclear Posture Review released Tuesday also described "nuclear terrorism" as an immediate and extreme threat, with efforts to prevent the spread of atomic weapons given top priority.

US Secretary of State Hillary Clinton described the threat of nuclear terrorism as "very real" and said networks around the world were trying to obtain access to radiological materials.

Obama's new policy rules out building new nuclear weapons or carrying out tests, but calls for setting aside billions of dollars to "modernize" existing US weaponry.

The overhaul comes two days before he is due to sign a treaty with Russia to slash stockpiles of long-range nuclear warheads by a third, and less than a week before he hosts world leaders at a nuclear summit.

Obama has committed the United States to a series of nuclear arms cuts in a bid to bolster efforts to prevent the spread of nuclear weapons.

For next week's summit, Obama called on world leaders to commit to securing all "vulnerable nuclear materials" around the world within the next four years.

The United States has never renounced the "first use" of nuclear weapons, and Obama's policy stops short of calls by arms control activists to explicitly limit their role to deterrence of other nuclear-armed states or terror groups.

The issue over "first use" divided Obama's deputies, but Defense Secretary Robert Gates said the administration had decided to keep its options open.

"There was agreement within the administration that we didn't think we were far enough along the road toward getting control of nuclear weapons around the world to limit ourselves so explicitly," he told reporters.

Gates said the review sent a firm message to countries such as Iran or North Korea that refuse to abide by UN authority.

"If you're not going to play by the rules, if you're going to be a proliferator, then all options are on the table in terms of how we deal with you," he said.

While limiting the possible use of nuclear weapons, the policy review also warned of a "devastating conventional military response" in the event of a chemical or biological attack on the United States.

The policy review met with criticism in Washington from both left and right, with hawks accusing Obama of undermining US military power and liberals urging bolder action and bigger arms cuts.Related article:US nuclear guidelines 'significant policy shift':analysts

German Foreign Minister Guido Westerwelle called the new policy a "courageous step" towards disarmament, saying it offered hope for further cuts to US tactical nuclear weapons in Europe.

Obama promised in a speech in Prague a year ago to work toward a world without nuclear weapons.

In an interview with The New York Times, Obama said that despite ruling out a US nuclear attack in some cases, he retained "all the tools that are necessary in order to make sure that the American people are safe and secure."

He said he wanted to ensure the US approach to nuclear weapons was clear to the rest of the world, including Iran and North Korea.

"And I do think that when you?re looking at outliers like Iran or North Korea, they should see that over the course of the last year and a half, we have been executing a policy that will increasingly isolate them so long as they are orating outside of accepted international norms."

US nuclear forces on land and at sea will stay on full-time alert under the new policy, but Gates said efforts would be made to improve the "command and control system" to give the president more time to make a decision in a nuclear crisis.