Venezuela erupted in a fifth day of violent protests in a week Monday, as President Nicolas Maduro traveled to Cuba seeking support from fellow leftist leaders, source from VNS.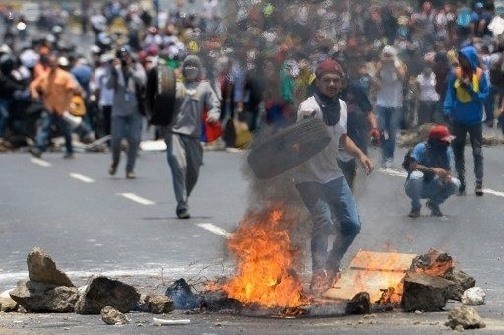 Opposition activists protesting against President Nicolas Maduro's government clash with riot police in Caracas on April 10, 2017. — AFP/VNS
In the latest clashes in the once-booming oil exporter, riot police in Caracas fired tear gas at stone-throwing demonstrators – whose leaders vowed not to let up the pressure on Maduro.
"This is a battle of resistance. We will see who gets tired first: us of fighting, or them of repressing," said the deputy speaker of the opposition-majority congress, Freddy Guevara.
The streets of Caracas and several other Venezuelan cities have been the scene of running battles in recent days.
Police deployed water cannons and fired tear gas and rubber bullets at demonstrators, who hurled rocks and Molotov cocktails.
On Monday, several patients including a newborn baby had to be evacuated from a medical clinic in the Las Mercedes district after it was struck by tear gas canisters, a doctor there, Luis Montanes, told reporters.
One protester was killed on Thursday. Dozens of people have been wounded or arrested.
Mother of all marches
Maduro is fighting efforts to force him from power over an economic crisis marked by severe shortages and the world's highest inflation.
His popularity, already pummeled by the three-year recession, sank further last week when he and his allies sought to tighten their grip with two Supreme
Court rulings that stripped the legislature's power.
The court later reversed the rulings amid an outcry.
But the crisis only deepened Friday when authorities banned senior opposition figure Henrique Capriles from holding public office.
That blocks Capriles, who narrowly lost the 2013 presidential election to Maduro, from running against him next year.
Capriles said on Twitter that his party headquarters was set on fire during clashes on Sunday.
The opposition is planning what Guevara called the "mother of all protest marches" on April 19 against Maduro.
Maduro's supporters also announced they would stage a major march that day in central Caracas.
Protesters want elections, food
The opposition's demands include that authorities set a date for gubernatorial elections that have been postponed indefinitely.
Maduro said Sunday he was "eager" for the elections to go ahead so he could "hand a defeat to those people... so that they will stop the rioting and violence."
Protester Alejandro Navas, a law student, said he was in the streets to demand elections at every level, including presidential.
"We want elections, not because Maduro feels like it, but because Venezuela needs them," he said.
Fellow demonstrator Carolina Moreno, a 39-year-old unemployed woman, said she was simply protesting for food.
"They give you one miserable bag of food a month," she said – a reference to the government's subsidised food programme for poor neighborhoods.
Rallying allies
Maduro was meanwhile in Havana for a meeting of foreign ministers of the leftist ALBA bloc, a Latin American group co-founded by his late mentor, Hugo Chavez.
Bolivia, Cuba, Ecuador, Nicaragua and several Caribbean countries were expected to issue a statement of support for Maduro at the meeting.
But the group's influence has waned along with that of Venezuela, whose economy has been devastated by the drop in global oil prices since 2014.
The European Union piled the latest international pressure on Venezuela on Monday, raising alarm over the "ongoing escalation of tensions and violent confrontations."
The secretary general of the Organisation of American States, Luis Almagro – a prominent critic of Maduro – also took his latest shot at the president.
"For the stability of this region, Venezuela needs a legitimate government," he said during a visit to Brazil.