ROME, April 3, 2011 (AFP) - A new wave of Tunisian boat people arrived early Sunday at Italy's Lampedusa island after a four-day hiatus, local authorities said.
A first boatload of 133 arrived at Italy's southernmost island shortly before dawn, while another 113 landed at around 8:00 am (0600 GMT), they said.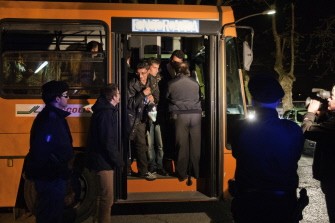 AFP - Tunisian migrants who had escaped from their tent camp on the Italian island of Lampedusa are being transfered from the Oria station to a reception centre in Manduria, in the Puglia region, on April 1, 2011.
A third boat with around 100 people aboard was rescued a few kilometres off the tiny island after an Italian journalist who was with them raised the alarm that the boat was taking on water.
Another three boats were headed towards the island, the sources said.
An Italian navy vessel, the San Marco, had left the island at around 2:00 am with some 500 migrants on board to ferry them to the mainland.
They were among more than 15,000 Tunisian migrants who have landed on Italy's shores since the ouster of president Zine El Abidine Ben Ali in a popular revolt in January.
The transfers announced by Prime Minister Silvio Berlusconi during a visit to the island on Wednesday had been suspended Thursday because of bad weather.
Three big ferries with a total capacity of more than 4,000 were preparing to evacuate the newcomers in an operation that may be completed Sunday, the authorities said.
The Italian government has asked Tunis to stop the exodus and to take back those migrants who have already arrived in Italy.
Late Saturday Rome said Tunis had agreed to take them back though the Tunisian foreign minister had denied this a few hours earlier.
Berlusconi was heading to Tunis on Monday to address the issue with the Tunisian authorities.
The massive influx of migrants sparked weeks of protests from Lampedusa residents and fierce condemnation from aid organisations over living conditions on the overcrowded island, whose population is just 5,000.
On Friday, Berlusconi said he might allow the migrants to join relatives and friends across Europe, despite open reluctance from European countries to take them in.
Italy last week renewed its appeal to the European Union for help dealing not just with Tunisian migrants looking for a better life, but also with refugees from other parts of Africa formerly held in detention camps in Libya.
Since the conflict in Libya began in mid-February, Eritreans, Ethiopians and Somalis have also begun turning up on Lampedusa and other islands in the Pelagian archipelago, which lies closer to north Africa than to mainland Italy.