The New York Times Company has decided to notify federal authorities of its plans to shut down the Boston Globe, The Washington Post reported Monday.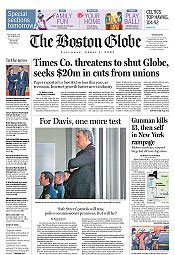 The April 4, 2009 frontpage of The Boston Globe
The newspaper said the decision was raising the possibility that Boston's main newspaper could cease to exist within weeks.
The New York Times Co. had threatened to shut down the daily unless Boston Globe unions agree to pay cuts and other cost-saving measures.
The Globe could bleed 85 million dollars this year unless a deal is reached with unions to cut 20 million dollars in costs.
In 1993, the New York Times Co. bought the 137-year-old Globe for 1.1 billion dollars.
According to The Post, after the negotiations did not produce union concessions, the Times Co. said it will file Monday a required 60-day notice of the planned shutdown under the Worker Adjustment and Retraining Notification law.
But the paper said the move could amount to a negotiating ploy to extract further concessions from the Globe's unions, since the notice does not require the Times Co. to close the paper after 60 days.