GREYMOUTH, New Zealand, Nov 20, 2010 (AFP) - New Zealand Prime Minister John Key pledged Saturday his government would do everything possible to secure the rescue of 29 miners believed trapped in a coal mine following an explosion.
But Key also cautioned the safety of the rescuers could not be compromised as conditions in the Pike River mine remained too treacherous for any immediate recovery attempt.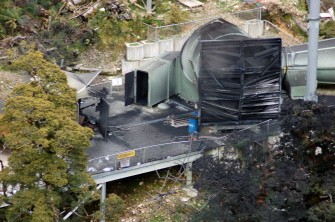 AFP- This aerial photo taken on November 19, 2010 shows smoke coming from the Pike River Coal Mine portal, where some 29 coal miners are trapped underground after an explosion near Greymouth in New Zealand.
The 29 miners have not been heard from since the explosion on Friday afternoon and dangerous gases continue to seep from the mine ventilator.
Police have said they are waiting for a "safe environment" before sending rescue teams in and Key said he was satisfied everything was being done to bring the men out alive.
"The big issue now is balancing the rescue of the miners with the safety and security of those who have to undertake that operation," Key said after visiting the remote mine about 50 kilometres (30 miles) north of Greymouth.
"It's a difficult time for everyone but we are determined to get the men out alive.
"We are, from a government's perspective, doing everything we can to make sure these 29 brave men are taken out of the mine and are here in one piece. That's our priority and we need to make sure we give all the support we can to make that happen."
Key said the government had received a large number of international expressions of support including a personal email from Prince William.