SEOUL, Sept 30, 2009 (AFP) - World leaders will discuss ways to sustain growth and correct global economic imbalances at next year's G20 economic summit in South Korea, President Lee Myung-Bak said Wednesday.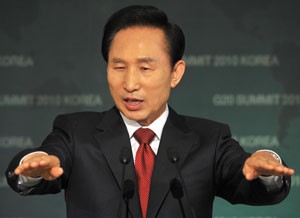 S. Korean President Lee Myung-Bak speaks during a press conference at the Blue House on September 30, 2009 (AFP photo)
"At the time when the G20 summit takes place in November next year, the world will clearly be out of the global economic crisis," Lee told a press conference.
"The G20 will discuss ways to sustain economic development following the global crisis and how to correct imbalances in the world's economy."
The latest Group of 20 summit ended in Pittsburgh on Friday after agreeing to meet next year in Canada and South Korea.
Lee said members had agreed it was too soon to start scaling back the multi-trillion dollar stimulus measures that helped stave off further economic misery following last year's financial meltdown.
South Korea is set to be one of the first countries to recover but Lee said it was still too early to draw up its own exit strategies.
He said Seoul would invite representatives from African countries and other developing nations to the summit to discuss aid.
Hosting the event would give the nation an opportunity to raise its international status, Lee said.
"South Korea is facing an upturn in its fortunes. The chance to become a leader in the world has come," he added.
"Let us turn our hosting of the G20 summit next year into a chance to clearly upgrade the status of our nation not only in the economic sector, but also in the legal, ethical, political and cultural areas."