Bolstered by lucrative new uranium and oil projects, Niger's president has plowed ahead with a referendum likely to extend his rule for years past the constitutional limit and grant him what critics say are near-totalitarian powers.
The vote Tuesday on a new constitution supported by President Mamadou Tandja comes despite opposition among many who view it as illegal — from international donors who could cut crucial aid, to critics at home who say the Islamic nation's nascent democracy has been hijacked by a new African strongman.
"Our country is going backward," lamented Abdul Razaq, a researcher at Niamey's main university, who said he would not vote. "This is a profound setback for Niger, for Africa, for democracy."
Opposition leaders had called for a boycott and turnout appeared to be low in the capital.
Though the vote was mostly peaceful, police in the northern opposition town of Illela fired tear gas at protesters who tried to stop polling stations from opening, according to an electoral official in the region, Harissou Moussa. And in Birnin Gaoure, 60 miles (100 kilometers) east of the capital, police arrested several people who tried to disrupt voting, Interior Minister Albade Abouba said.
Vote counting began late Tuesday, after the polls closed.
While democracy has flourished in some African nations like Ghana, the crisis in Niger and coups over the last year in Guinea, Mauritania and Madagascar have increased doubts the continent has put its era of authoritarian rule behind it.
After three coups hit Niger between 1974 and 1999, Tandja twice won votes deemed fair. But in the waning months of his final term, the bespectacled 71-year-old has gone down the path of many long-serving African despots, breaking a promise he had frequently made to step down when his term expires Dec. 22.
If approved, the new constitution will enable Tandja to stand for president as many times as he wants, and grant him three more years in power before new elections would be held.
Some fear Tuesday's referendum may sow instability, and the timing couldn't be worse. A low-level rebellion finally calmed this year in the uranium-rich north, where al-Qaida has crossed into deserts and kidnapped a handful of foreigners, including a Canadian later freed who was the U.N.'s special envoy.
Tandja claims he is only pushing to stay in power because his people have demanded it. He says they want him to finish several mammoth projects worth billions of dollars that have begun in recent months, including a hydroelectric dam, an oil refinery and what will be the largest uranium mine in Africa.
The projects — financed by China, France and Arab nations — are far more valuable than donor aid, which nevertheless accounts for more than half of Niger's budget. The European Union, which had pledged $643 million through 2013 and already has cut $9 million, has warned Tandja's actions "could have serious and direct consequences" for cooperation.
Tandja's critics allege he wants to stay on so his family and clan can benefit from the influx of wealth.
After dropping his ballot into a clear plastic ballot box, Tandja told reporters: "Our objective has been attained. We answered the call of the people."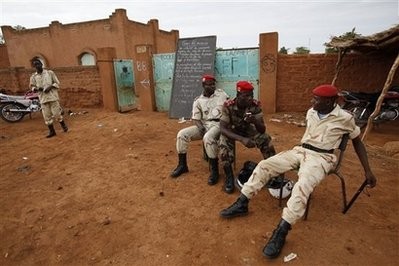 Soldiers guard a school serving as a polling station in a constitutional referendum
As he spoke, police and paramilitary troops in dark camouflage fatigues blocked nearby streets with machine gun-mounted trucks.
"You have to ask, what people are calling for Tandja to stay? Are they his people, are they real people?" said Khalid Ikhiri, who heads a local human rights league. "Most people are frustrated, forgotten, and not free."
Niger is ranked fifth from last on the U.N.'s worldwide human development index and has an astounding 70 percent adult illiteracy rate. The nation on the Sahara's southern edge has been perpetually battered by drought and desertification. And these days, it has the world's highest population growth rate.
Nevertheless, Tandja has plenty of supporters.
"Nobody else can do what he is doing. Why shouldn't he be allowed to stay?" asked retired teacher Idrissa Assane, who praised the president's development initiatives. "We're voting. People can say no. That's democracy, isn't it?"
Tandja's opponents say the problem is not simply that he is fighting to stay: It's that he has overrun Niger's democratic institutions to do so.
Troubles began in late May, when he dissolved parliament because it opposed his plan. The move was legal, but in June, he invoked extraordinary powers to rule by decree. Tandja says he had the right. The constitution, however, says he could only do so if the nation is facing a dire threat, and parliament is in place to monitor abuse.
Days later, the constitutional court ruled his referendum call illegal; Tandja responded by issuing a decree replacing the court with another, whose members he chose.
The new constitution goes farther, giving Tandja authority to name a third of a new senate, and new powers over press considered a security threat. It also enshrines his power to appoint constitutional court judges and greatly weakens the prime minister, as well as lawmakers, who will lose the power to impeach him.
"A democracy is supposed to have checks and balances," said Transparency International's Niger representative, Aissata Bagnan Fall. "What Niger will have now is a president who does all, decides all. That's called a dictatorship."