The Nigerien government said Friday it will not send fallen Libyan dictator Moamer Kadhafi's son Saadi back home from Niger, where he fled after the collapse of the regime in Tripoli.
Asked by journalists if Niger would turn Kadhafi's son over to Libya's new authorities, government spokesman Marou Amadou said, "No."
"With regard to (our) international obligations, we cannot send someone back there where he has no chance of receiving a fair trial and where he could face the death penalty," he said.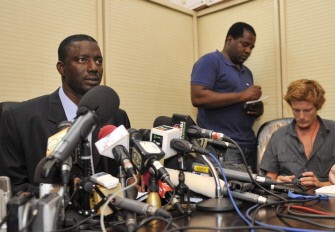 Marou Amadou (L), Nigerian Minister of Justice and government spokesman, looks on during a press conference on the Libya conflict, on September 16, 2011
"On the other hand, if this gentleman or any other person is wanted by an independent court ... which has universal competence over the crimes for which he is pursued, Niger will do its duty," he added.
On a visit to Libya on Thursday with British Prime Minister David Cameron, French President Nicolas Sarkozy said he was confident that Niger would cooperate in this regard.
"We have no reason to doubt the Nigerien leaders' commitment to international justice," Sarkozy said.
"We are a sovereign government and we shall consider requests or demands when they are received," said Amadou.
Saadi Kadhafi is on a list of people close to the Kadhafi regime targeted by UN Security Council travel sanctions.
The 38-year-old, the third of Kadhafi's seven sons, renounced a football career in Italy in 2004 to join the army, where he led an elite unit.
He arrived in Niger, one of the west African countries that benefited the most from Kadhafi's largesse, on Sunday in a convoy alongside other members of the toppled regime.
Niger has confirmed it has 32 Kadhafi loyalists on its soil, including three generals, saying it allowed them entry for "humanitarian reasons".
Niamey has officially recognised the National Transitional Council as Libya's interim leadership.
It has insisted that Kadhafi himself was not on its territory and declared that it will comply with international agreements should wanted Libyans cross into its borders.
"Niger will not hesitate to respect its engagements, as a democracy and lawful state," Amadou said.
The Kadhafi loyalists are "under our guard, our surveillance and our control" and the government "will be making sure that these people refrain from all political activity," he added.
The spokesman said an NTC delegation was expected in Niamey and in the meantime it was in regular contact with the transitional authority.
But Amadou turned the discussion telling reporters that the biggest threat in the region's stability was Al-Qaeda's north African branch, Al-Qaeda in the Islamic Maghreb (AQIM), claiming it is getting arms in Libya.
"The worst (thing) is not some Libyan refugees close to Kadhafi, but the extremely serious complication that this (Libyan) war is having on the security and stability of the already fragile Sahel" region, he said.
"People have to look at the real problems in this Libyan crisis: it is reinforcing AQIM, reinforcing drug traffickers for whom the Sahel, all six million square kilometres, is a refuge," Amadou said.