LAGOS, April 3, 2011 (AFP) - Nigeria's election body was harshly criticised Sunday after parliamentary polls were postponed hours after they were to begin amid organisational chaos, raising fears over the April 9 presidential vote.
The parliamentary vote will now be held on Monday, and many questioned what effect the postponement would have on turnout, as well as what will happen to ballots that were cast on Saturday before the polls were called off.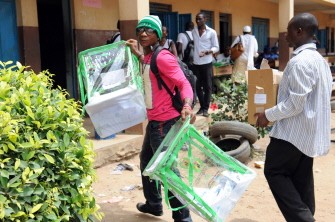 AFP - An official of the Nigerian Independent National Electoral Commission (INEC) carries filled up ballot boxes at a voting centre in the Ketu district of Lagos, on April 2, 2011.
There were also the inevitable suggestions of sabotage in a country long held back by corruption and with a history of deeply flawed and violent polls.
"It is a national embarrassment, which cast a shadow on the entire general election," ThisDay newspaper wrote in an editorial.
A front page editorial in the widely read Punch newspaper called the postponement "shocking and embarrassing" and said the delay to Monday would not leave enough time to resolve logistical problems.
Parliamentary elections on Saturday were to be the first of three landmark polls this month seen as a critical test of whether Nigeria can organise a credible ballot after a history of vote fraud and violence.
Presidential elections are due to follow the parliamentary ballot on April 9, while governorship and state assembly polls are due on April 16 in Africa's largest oil producer.
A recently installed electoral commission headed by a respected academic had raised hopes that the vote would be better conducted this time. President Goodluck Jonathan has repeatedly promised a free and fair election.
But it became clear on Saturday morning that there were major problems with the organisation of the ballot, with large numbers of polling places without materials and personnel.
The head of the electoral commission, Attahiru Jega, went on live television at around midday to announce he was pulling the plug, appearing solemn and deeply apologetic as he called the situation an "emergency."
He said a vendor had not delivered materials on time as promised, and the company had blamed air transport problems due in part to the emergency in Japan.
The announcement sparked anger as it filtered throughout the country and to polling places, where many had waited for hours under a harsh sun. Even the polling place where the president was to cast his ballot did not have the proper materials and personnel.
Voting continued after the postponement was announced in parts of the economic capital Lagos, with officials at one polling place unaware until a journalist told them.
A spokesman for the electoral commission on Sunday sought to put aside fears over the ballots that had been cast, saying they would be marked invalid.
"They are in the custody of our personnel and they cannot be tampered with," Iorwuese Umenger told AFP. "Nigerians should trust and believe in (the electoral commission) to do a good job."
One of the main opposition parties, the Action Congress of Nigeria, said the new date on Monday was too soon and would give the ruling Peoples Democratic Party an unfair advantage.
"The new date does not give us enough time to re-mobilise our agents and put in place the necessary logistics," it said in a statement.
"The only day between Saturday and Monday is Sunday, when banks do not open. Where does (Jega) expect us to get the funds to mobilise our agents for Monday's election? Only the PDP can quickly mobilise such funds."
Violence has occurred in the run-up to the polls, including bomb blasts and politically related clashes.
On Saturday, a military task force in the oil-producing Niger Delta region -- notorious for election-linked violence in the past -- said one of its boats came under fire in Bayelsa state just before 9:00 am and shot back, killing one suspect.
The task force said in a statement it "believes that the suspects might have been hired by certain people to subvert the electoral process," adding that dynamite and ammunition were recovered.
Police also said a parliament member, Emmanuel Deeyah, was kidnapped on Saturday in the Bori area of the Niger Delta region, but details were not available.