A young Nigerian was Wednesday charged with attempted murder and trying to use a weapon of mass destruction aboard a US plane, as under-fire security chiefs vowed to revamp intelligence services.
Umar Farouk Abdulmutallab, 23, was indicted on six counts arising out of the botched Christmas Day plot to blow up a Northwest airliner packed with 279 passengers and 11 crew as it approached Detroit, Michigan.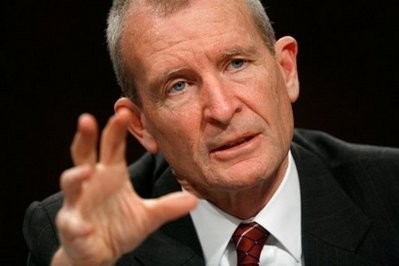 Director of National Intelligence Dennis Blair, the top US intelligence chief, has pledged to repair flaws in the security services to confront an evolving threat from terror groups
Michigan district court documents accused him of "carrying a concealed bomb" inside his clothing on board Flight 253 from Amsterdam.
"The bomb consisted of a device containing Pentaerythritol Tetranitrate (PETN), Triacetone Triperoxide (TATP) and other ingredients," the charge sheet said, adding that both substances were highly explosive.
"The bomb was designed to allow defendant Umar Farouk Abdulmutallab to detonate it at a time of his choosing, and to thereby cause an explosion aboard Flight 253," the documents added.
If convicted of trying to use a weapon of mass destruction, the young Nigerian faces life imprisonment, the Department of Justice said in a statement. Other charges carry a maximum of 20 years, while two charges of possession of a firearm carry a mandatory 30 years in prison.
"This investigation is fast-paced, global and ongoing, and it has already yielded valuable intelligence that we will follow wherever it leads," Attorney General Eric Holder said in the statement.
He vowed that "anyone we find responsible for this alleged attack will be brought to justice using every tool -- military or judicial -- available to our government."
President Barack Obama Tuesday sharply rebuked intelligence and security services for missing a series of "red flags" which could have unmasked the plot earlier.
"It is increasingly clear that intelligence was not fully analyzed or fully leveraged," Obama said after gathering agency chiefs and national security aides at a high-stakes White House meeting.
"That's not acceptable, and I will not tolerate it," he said in an unusual public dressing-down of the intelligence services.
Obama was even more explicit during the meeting in the secure White House Situation Room, an official said.
"This was a screw-up that could have been disastrous," the official, speaking on condition of anonymity, quoted Obama as saying.
Red-faced top officials admitted mistakes had been made and vowed to do better to confront an evolving threat from terror groups. An Al-Qaeda cell in Yemen, where Abdulmutallab spent some time in 2009, has claimed to be behind the plot.
"We know, based on this incident and certainly the direction we've all received from the president, we have to learn these lessons and make it better," the chairman of the Joint Chiefs of Staff Mike Mullen said.
"It's not a perfect system," he admitted.
Director of National Intelligence Dennis Blair was even blunter in a statement, saying: "The intelligence community received the president's message today -- we got it, and we are moving forward to meet the new challenges."
Reports have said there were a series of clues that should have raised the alarm, including a warning from Abdulmutallab's father, a prominent Nigerian banker, who told the US embassy he was concerned about his son.
The White House will Thursday release an unclassified version of a report into the intelligence failures.
"I think you'll see tomorrow that this is a failure that touches across the full waterfront of our intelligence agencies," said White House spokesman Robert Gibbs.
The Christmas Day incident has triggered a series of new security measures at airports around the world, and US officials have already added dozens of names to no-fly lists.
But Blair acknowledged intelligence services had to become more nimble in reacting to new methods being developed by terror groups such as Al-Qaeda, which hijacked planes to destroy New York's Twin Towers in 2001.
"We can and we must outthink, outwork and defeat the enemy's new ideas. The intelligence community will do that as directed by the president, working closely with our nation's entire national security team," Blair said.
"The threat has evolved, and we need to anticipate new kinds of attacks and improve our ability to stay ahead of them and protect America."