Nigeria's main rebel group in the oil-rich south on Tuesday named a team of mediators to open talks with authorities ahead of a deadline to disarm before this weekend.
The Movement for the Emancipation of the Niger Delta (MEND) said in an email statement that a team of "eminent Nigerians", including a former military chief and a Nobel laureate, would negotiate with the government on its behalf.
"Some eminent Nigerians have graciously accepted to dialogue on behalf of the ...MEND with the federal government of Nigeria whenever the government realizes the need to adopt serious, meaningful dialogue as a means to halting the violent agitation in the Niger Delta," it said.
Nigerian Nobel laureate Wole Soyinka will be on the four-member panel as an observer, MEND said. Former chief of general staff and retired naval vice admiral Okhai Mike Akhigbe is one of the mediators.
MEND's announcement came as its leader Henry Okah said unrest was likely to continue in the Niger Delta after the amnesty deadline expires on Sunday because the root cause of the violence had not been addressed.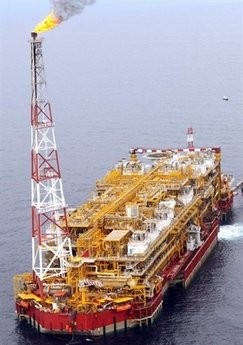 An oil platform located off the Nigerian coast
Okah told a Nigerian daily, Next on Monday that "dialogue will lead to a just settlement and peace, not the fraudulent disarmament process Nigerians are witnessing".
MEND said the mediators would "have our mandate to oversee a transparent and proper MEND disarmament process that conforms with international standards as the current disarmament process is flawed and lacks integrity."
The armed groups claim they are fighting for a fairer share of the oil revenues for the impoverished populations in the region from where more than 90 percent of the nation's foreign exchange is derived.
Since 2006, militant activities have disrupted operations of oil companies in southern Nigeria, resulting in a sharp decline in production.
MEND announced a 60-day truce on July 15 and extended the ceasefire by another month in response to the government amnesty offer which came into effect on August 6.
While some militants have laid won their arms, others still express reservations.
"The MEND disarmament process will only come after the root causes of militancy and agitation in the Niger Delta have been addressed by the Nigerian government," the statement said.
The group accused the Nigerian government of so far not showing "willingness to dialogue, preferring instead to make wild unrealistic threats, purchase more useless military hardware, and dole out bribes to traitors to our noble cause."
Some leaders of the armed groups in the region want the amnesty period extended, but Defence Minister Godwin Abbe last week ruled it out.