Sportswear producer Nike said Wednesday it would stop orders with three footwear factories in China and one in Vietnam as the global downturn forces the company to trim output.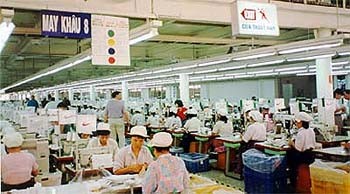 A Nike factory near Ho Chi Minh City, Vietnam
It will also terminate shipments from a number of apparel contract plants, Nike said in a statement emailed to AFP. The locations of the apparel factories were not revealed.
"This is part of a long-term consolidation of our supply chain that we began in mid-2007," Erin Dobson, the company's spokeswoman in Beaverton, Oregon, told AFP.
"We are not immune to the current global economic situation and because of this we have accelerated our process."
Nike has given the factories between six and twelve months to find new customers to fill their capacity, she said, adding the company would keep "reviewing (its) supply chain for efficiencies."
The sportswear giant has 640 factories on a contract basis across the world, with 72 focusing on footwear. The factories hire approximately 800,000 workers.
China is Nike's largest sourcing country for footwear, apparel and equipment, with Vietnam, Indonesia, Thailand and South Korea an integral part of its global supply chain network, according to the statement.
It has also announced that it could cut up to 1,400 jobs, or four percent of its 35,000 workforce, due to the global economic crisis.