Nine UN helicopters able to ferry aid to remote cyclone victims should enter Myanmar this week, officials said Tuesday, but it was unclear when they will be allowed to fly to the worst-hit areas.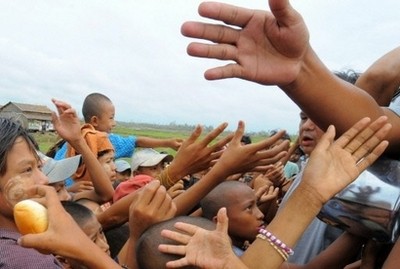 Survivors of Cyclone Nargis reach out to receive food aid in the outskirts of Myanmar's largest city Yangon. (AFP Photo)
The UN's World Food Programme received permission about two weeks ago to take 10 helicopters into the country, where more than one million people who lived through Cyclone Nargis remain without foreign relief supplies.
One chopper entered the country on May 22, but was only able to leave Yangon on Monday to make its way down to the Irrawaddy Delta region, which bore the brunt of the storm, said WFP's Asia spokesman Paul Risley.
Asked whether the nine helicopters had permission to fly supplies to the delta region, Risley replied: "That's the next step."
"Every step of the relief assistance process requires approval, permission and authority granted by the government," he said.
"But clearly there is still very much a need for the use of these helicopters in delivering the last leg of this food assistance."
Myanmar's ruling military junta blocked foreign relief supplies after Cyclone Nargis hit one month ago, leaving 133,000 people dead or missing and 2.4 million people in need of food, shelter and medicine.
After a UN-led diplomatic effort, the junta agreed on May 23 to allow foreign aid workers access to the delta.