MOSCOW, July 31, 2011 (AFP) - Nine people drowned in a boating accident Sunday after a pleasure boat carrying 16 people collided with a barge and sank in the Moscow river, investigators said.
"The boat sank with nine passengers on board, including the captain... who died," the Investigative Committee said in a statement based on the findings of transport investigators. "Seven people managed to be rescued."
Among the survivors was a Turkish citizen, investigators said, with witnesses saying the boat was hosting a birthday party.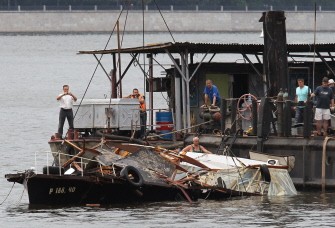 AFP - Rescuers lift up a sunken boat at the Moscow river, on July 31, 2011
The accident came less than three weeks after Russia's worst post-Soviet shipping accident, when 122 people died after a pleasure boat sank on the Volga river.
The motor boat collided with the barge at around 1:30 am (2130 GMT Saturday) opposite the city's Luzhniki sports stadium, upstream from the Kremlin, the investigation said.
"After the collision, the motor boat was pulled under the bottom of the barge," deputy emergency minister Alexander Chupriyan said in televised comments at the scene, adding that the barge's crew helped rescue passengers.
It remained unclear why the motorboat crashed into the large barge in a popular stretch of the river for boating trips.
The motorboat was overcrowded since it was "given a licence to carry no more than 12 passengers," the investigators said. It had been registered in the far eastern region of Chukotka, but had passed a technical inspection in Moscow.
Chupriyan added that the boat's owner, who was acting as captain and drowned in the accident, had three times been fined for violations including for carrying too many passengers.
Witnesses said a birthday party was being hosted on board by a Turkish national.
"The rescued passengers say they were invited on the boat by a Turkish citizen, who had turned 31," Moscow transport investigator Pavel Seliverstov said at the scene, Life News website reported.
Investigators have opened a criminal probe into breaches of safety rules leading to multiple fatalities.
The fatal accident comes just weeks after a Soviet-era pleasure boat sank on July 10 on the Volga in the central Russian republic of Tatarstan, killing 122 people, including 28 children.
Russian Prime Minister Vladimir Putin blamed "greed" and gross safety violations for the accident, which was the worst shipping incident in recent memory.
The 56-year-old Bulgaria vessel was listing heavily to one side and had engine trouble before it set off. It was also overcrowded and operating without a proper license, officials said.
Investigators have arrested the tour operator and a local licensing official and have promised to widen their probe.