Nine Buddhist civilians were shot dead execution-style Wednesday when separatist insurgents ambushed their bus in Thailand's restive Muslim-majority south, police said.
Three men and six women, including two girls aged 14 and 15, were shot in the head at point-blank range after rebels armed with assault rifles forced their minibus off the road, local police said.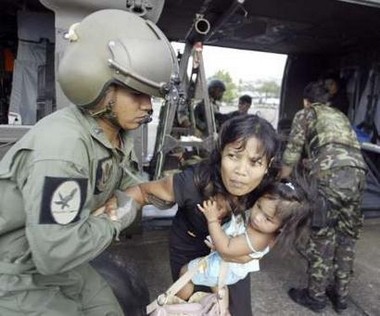 Thai military personnel transport an injured woman and her child out of a helicopter to a hospital in Thailand's Yala province.
The bus driver, a Muslim man, was also seriously injured in the daylight attack in Yala, one of three southern provinces where about 2,000 people have been killed in three years of separatist unrest.
"Militants opened fire on a minibus full of passengers who commute between Betong (district) and Hat Yai, and the bus veered off the road," Colonel Acar Tiproach, the Thai army spokesman, told AFP.
Eight of the passengers, who police said were traders and villagers, died immediately. One more died on the way to hospital.
A police officer at the scene said separatist rebels had placed logs on the road to force the minibus to a stop.
"When the bus slowed down, they opened fire. The bus veered off the road, and then the militants got on and shot the passengers in the head at point blank range," the investigating officer said.
Colonel Apirak Sungkhao, a local police commander, said militants detonated a bomb soon after the attack to prevent police from arriving immediately at the scene, and put spikes on the road to stop vehicles approaching.
No one was injured in that blast, he said.
The gruesome multiple killing followed a similar ambush Tuesday, when a pickup truck carrying people to a funeral in Yala was attacked by militants who shot dead a 61-year-old Buddhist.
Violence has recently escalated in the region bordering Malaysia despite a raft of peace-building measures proposed by Thailand's military-backed government.
A string of coordinated bomb blasts across Yala, Narathiwat and Pattani provinces last month killed nine and injured 44.
The region has been on high alert since, with the authorities warning of specific attacks from March 13 to 15 to mark the anniversary of the founding in 1963 of separatist group Barisan Revolusi Nasional Melayu Pattani.