TOKYO, April 20, 2010 (AFP) - Nissan said Tuesday it will suspend some car production in Japan because cannot import parts from Ireland due to air traffic disruption brought by the eruption of an Icelandic volcano.
Japan's third-largest automaker expects to lose total production of 2,000 vehicles a day in two plants from Wednesday due to a shortage of tyre pressure sensors that the company ships from Ireland, spokesman Mitsuru Yonekawa said.
The parts are used in Nissan's Cube, Murano and Rogue vehicles targeting the North American market, he said, adding that it was undecided when the company will resume production.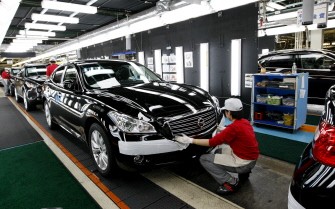 This file photo taken on November 12, 2009 shows Nissan Motor workers on a production line at the company's Tochigi plant in the town of Kaminokawacho, in Tochigi prefecture, north from Tokyo. AFP photo
The part, which is obligatory in cars that run on US roads, raises an alarm if it senses abnormal air pressure, according to the company official.
Production of other models that do not require the component, including the Note minicar, X-Trail SUV and Dualis hatchback, will also be affected by the suspension.
One of two lines in Oppama, located in Yokosuka outside of Tokyo will be shut while both lines in its southern Kyushu factory will be suspended, Nissan said.
The move comes as European airspace remains largely shut due to a cloud of ash created by the eruption of an Icelandic volcano last Wednesday, creating the worst air travel chaos since the attacks on September 11, 2001.
Companies worldwide are losing millions of dollars each day as thousands of airplanes are grounded, and millions of stranded passengers are unable to get back to work.
The Nissan official declined to give a figure on the expected loss from the plants' suspension. "We had thought that we were pretty much safe from the eruption's impact but conditions changed on very short notice," he said.
A fresh cloud of volcanic ash is expected to pass over Britain and Denmark but spare France, the European Volcanic Ash Advisory Centre (VAAC) said Tuesday.
Air traffic has begun to return to normal in parts of Europe but Britain is expecting further disruption, VAAC said, which is one of nine volcanic ash advisory centres around the world.
Nissan, which is tied with France's Renault, earlier this month launched a partnership with Germany's Daimler AG, to accelerate sales of low-pollution electric cars, in another sign of consolidation in the global auto industry.