North Korea and Cuba reaffirmed their friendly ties as a senior North Korean official visited Havana to attend Fidel Castro's memorial service, Pyongyang's media said Tuesday, source from the Yonhap.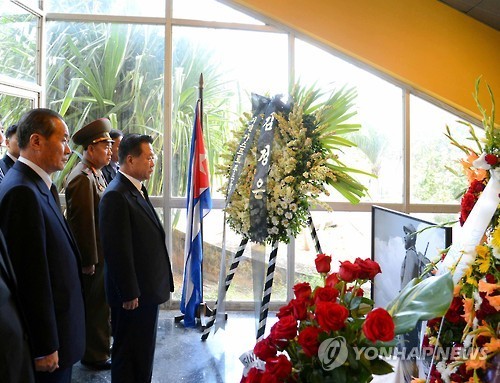 Choe Ryong-hae (R), a vice chairman of the ruling party's central committee, expresses his condolences over the death of former Cuban leader Fidel Castro on Nov. 29, 2016, in Havana in this photo released on Dec. 1 by the Korean Central News Agency. (For Use Only in the Republic of Korea. No Redistribution) (Yonhap)
Choe Ryong-hae, a vice chairman of the ruling party's central committee, met with Cuba's leader Raul Castro on Saturday during his visit to Havana, according to the Korean Central News Agency (KCNA).
North Korea sent Choe to Havana on Nov. 28 to pay tribute to the late leader in a move seen as highlighting its close ties with the Caribbean nation. The country called Castro a "close friend and comrade" of North Koreans.
The KCNA said that the two countries reaffirmed their close relationship, vowing to jointly fight against imperialism.
"Cuba would more firmly strengthen the ties with the DPRK than ever before to steadily develop the friendly ties provided by the preceding leaders of the two countries," Raul Castro was quoted as saying by the KCNA.
The DPRK is the acronym for the North's official name -- the Democratic People's Republic of Korea.
North Korean leader Kim Jong-un visited the Cuban Embassy in Pyongyang last week to mourn Castro.
Pyongyang honored Castro by observing a three-day mourning period from Nov. 28-30 as the former Cuban leader died at age 90 on Nov. 25. It hoisted flags at half-staff at major organizations and designated places.
North Korea and Cuba have long maintained close ties since they established their diplomatic relationship in 1960.
Castro visited the North in March 1986 at the invitation of late former North Korean leader Kim Il-sung, the grandfather of the incumbent leader.
Pyongyang's move came as the United Nations Security Council (UNSC) adopted another sanctions resolution on Wednesday over the North's fifth nuclear test in September.
North Korea is seeking to break away from deepening international isolation amid tougher sanctions imposed due to its ceaseless nuclear weapons and missile developments.
"It would not be easy for North Korea to (closely) keep its traditional ties with Cuba as Kim Il-sung and Castro have passed away," said Kim Yong-hyun, a professor of North Korean studies at Dongguk University. "I don't think Choe's visit will generate big accomplishments."
Washington and Havana have recently normalized their diplomatic relations which were severed in 1961. South Korea is also seeking to establish diplomatic ties with Cuba.