SEOUL, July 2, 2009 (AFP) - North Korea on Thursday test-fired four short-range missiles, South Korean military officials said, further fuelling tension sparked by its nuclear standoff with the international community.
The missiles -- apparently surface-to-ship ones -- were fired into the East Sea (Sea of Japan) between 5:20 pm (0820 GMT) and 9:20 pm, defence ministry officials were quoted as saying by Yonhap news agency.
All were launched from a base at Sinsang-ri, near the eastern coastal city of Wonsan, a spokesman was quoted as saying.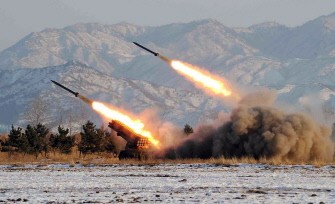 (FILES) This undated handout photo released by the Korean Central News Agency on January 5, 2009 shows a missile-firing drill at an undisclosed location in North Korea (AFP photo)
Other officials told the agency on condition of anonymity they landed about 100 kilometres (60 miles) off the coast, where the North has imposed a maritime ban until July 11 for what it calls a military drill.
Spokesmen from the defence ministry confirmed the first three firings to AFP but could not be reached for comment on the fourth.
It was the first military action the hardline communist state had taken since the United Nations on June 12 imposed tougher sanctions for its May 25 nuclear test.
South Korea's JoongAng Ilbo newspaper, quoting an intelligence source, said the North was likely to fire a series of short-range missiles in the coming days.
Apart from ground-to-ship weapons, it said these would likely include Scud-B missiles with a range of 340 kilometres (210 miles).
The North may also fire Rodongs, whose 1,300-kilometre range would likely be shortened to some 400 kilometre for the current round of testing, the paper predicted.
In the days after its atomic test -- the second since 2006 -- Pyongyang fired a total of six short-range missiles and renounced the truce brokered on the Korean peninsula after a civil war in 1950 to 1953.
In response to the UN resolution tightening curbs on its missile and atomic activities, it vowed to build more nuclear bombs.
US and South Korean officials believe ailing leader Kim Jong-Il, 67, is staging a show of strength to bolster his authority as he tries to put in place a succession plan involving his youngest son.
Japan's Prime Minister Taro Aso condemned Thursday's launches, telling reporters: "We have repeatedly warned that such a provocative act is not beneficial for North Korea's national interest."
In Washington, White House spokesman Robert Gibbs said the launches had not come as a surprise.
"The North Koreans said they were going to launch these missiles," he told reporters.
"I take the North Koreans at their word that they're going to continue their provocative actions," Gibbs said.
However, the commander of US Northern Command, General Victor Renuart, told The Washington Times he did not think Pyongyang's missiles posed any real threat to the US.
"Our ground-based interceptors in Alaska and California... give me a capability that if we really are threatened by a long-range ICBM (intercontinental ballistic missile) that I've got high confidence that I could interdict that flight before it caused huge damage to any US territory," the paper quoted him as saying.
In Beijing, a US delegation Thursday met officials for talks on giving the UN sanctions more teeth.
The support of China, the North's sole major ally and largest trade partner, is seen as crucial in making the sanctions stick.
The delegation, led by Philip Goldberg -- the State Department's point man on coordinating implementation of the sanctions -- met officials from the foreign ministry.
His team includes members of the National Security Council and the departments of Treasury and Defence.
Goldberg declined comment on China's position.
"The US position is that we want all the various aspects of the resolutions to work," he told reporters. "It is our intention to fully implement the resolutions."
US warships have since mid-June been tracking a North Korean ship suspected of carrying weapons. The Kang Nam 1 was reportedly headed for Myanmar but US officials said Tuesday it has now turned back.
China said its top envoy on the North Korean nuclear issue, Wu Dawei, had begun a visit to Russia, the United States, Japan and South Korea.
They are members of a forum which has tried since 2003 to persuade the North to scrap its nuclear programmes in return for energy aid and diplomatic and security benefits.
The North announced it was quitting the talks after the UN censured its long-range rocket launch on April 5.