North Korean leader Kim Jong-Il was believed to be visiting key ally China on Thursday, possibly accompanied by his youngest son and presumed successor, officials and media reports in South Korea said.
The apparent trip, which was not confirmed by either Beijing or Pyongyang, dashed hopes of a meeting with former US president Jimmy Carter who is on a mission to North Korea to try to win the release of a jailed American.
"Judging from circumstances, Chairman Kim might have left for China early Thursday morning," a senior South Korean official told AFP on condition of anonymity.
The trip -- which would be his second to China this year -- comes amid increasing speculation about Kim's successor and efforts by Beijing to revive North Korea nuclear disarmament talks despite high tensions on the peninsula.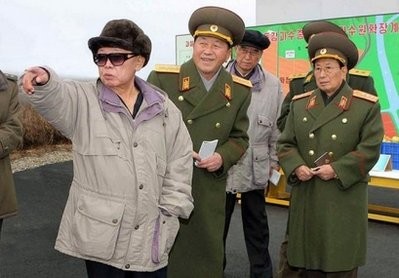 North Korean leader Kim Jong-Il, pictured inspecting the Taedonggang Combined Fruit Farm, may have left for China on Thursday in what would be his second trip there this year, South Korea's Yonhap news agency said
Analysts in South Korea said Kim was seeking to obtain China's blessing for his successor, widely expected to be his youngest son Kim Jong-Un, and gain desperately needed economic assistance from its main source of aid.
They also suggested that Kim's departure for China while Carter was in Pyongyang meant the North considered it too early to seek a breakthrough in tense relations with the United States.
South Korea's Yonhap news agency said Kim might be accompanied by Kim Jong-Un, 27, who is expected to be named to the ruling North Korean party leadership at a rare meeting next month.
Speculation about succession has intensified since Kim Jong-Il, now 68, suffered a stroke in August 2008, but he has since recovered sufficiently to work.
"Kim may have decided to tackle this issue in person as China has yet to reach an understanding about the succession at a time when the nuclear issue has not yet been resolved," Professor Yang Moo-Jin of the University of North Korean Studies told AFP.
Yonhap quoted an unidentified senior official as saying that "signs have been detected" that Kim made the visit to China on a special train.
It quoted a diplomatic source in Beijing saying the train had travelled north and apparently avoided its usual route which would have taken him through an area hit by widespread flooding this summer.
North Korean state media said Beijing has offered emergency aid following the flooding, which washed away homes, roads, railways and farmland, causing an unknown number of deaths.
Pyongyang and Beijing have made it a rule not to confirm Kim's trips to China, which he last visited in May and met President Hu Jintao.
Chung Seong-Chang of the Sejong Institute said Kim's visit underscored Pyongyang's deperate need for food aid and construction materials from China.
"Ahead of the party convention, Kim has to ease complaints over food shortages and stabilise people's livelihood," he said, adding Kim wants to make sure the September meeting in a festive mood.
Beijing has also been stepping up efforts to resume six-party talks on disarming the North amid simmering tensions over the sinking of a South Korean warship in March, for which Pyongyan was blamed.
Kim's departure means he is not likely to meet Carter, who was nevertheless treated as a VIP by Pyongyang, which staged a warm official welcoming ceremony and hosted a reception for the former US president.
Carter did however hold a "cordial" meeting with the North's number two Kim Yong-Nam on Wednesday, KCNA said.
The Nobel peace laureate arrived on Wednesday on a bid to secure the release Aijalon Mahli Gomes, an African-American who was jailed in April for illegally crossing into the North from China.
Some analysts said Carter's trip, although on what US officials stress is a private mission, could help ease friction in the aftermath of the March sinking of the warship.
"Carter's Pyongyang visit will help ease tensions and inject fresh air in favour of dialogue," Professor Kim Yong-Hyun of Dongguk University told AFP.
But Chung of the Sejong Institute said: "I think Kim concluded that his meeting with Carter at this point will not help greatly in improving ties with Washington in light of its current North Korea policy."
Inje University Professor Kim Yeon-Chul also said: "Kim's departure for China means Carter's mission will be limited to bringing home Gomes."