North Korea has announced a parliament session just after its upcoming rocket launch in an apparent bid for maximum political mileage, as a US general said it may be planning a multiple missile test.
Analysts said that apart from domestic political considerations, the move also shows Pyongyang is confident the launch -- which has raised regional tensions -- will succeed.
"The first session of the 12th SPA (Supreme People's Assembly) will be convened in Pyongyang on April 9," the Korean Central News Agency reported.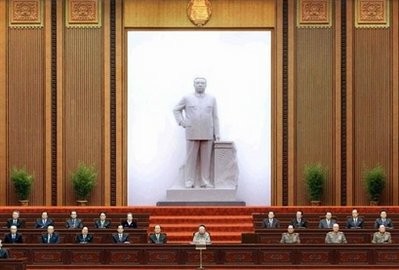 NKorean leader Kim Jong-Il (centre) is seen attending a parliamentary session at the Mansudae Assembly Hall in Pyongyang, in 2007.
The communist state has previously announced it will launch a communications satellite sometime between April 4-8.
The US and South Korea say this is a pretext to test-fire a long-range missile, in violation of a UN resolution passed after the North's 2006 missile and nuclear tests.
In Washington, the commander of US forces in South Korea said North Korea may test-fire several missiles to coincide with its scheduled launch.
General Walter Sharp said Pyongyang in July 2006 fired six shorter-range missiles in addition to its longest-range projectile, the Taepodong-2.
The Taepodong-2 failed after 40 seconds. Next month's launch is expected to be a test of an improved version.
"And we are watching very closely to see what else they will do between the fourth and the eighth of April, and that we're prepared for that," Sharp told a Senate hearing.
Sharp and the commander for the Pacific, Admiral Timothy Keating, said they were confident that any missile threatening US targets could be shot down with anti-missile weaponry.
Asked by Senator Joe Lieberman what the probability was of shooting down a missile aimed at the United States, Keating said: "We have a high probability, senator."
North Korea has resisted pressure to call off the launch and warned that any attempt to shoot the rocket down would be seen as an act of war.
Its flight plan filed with the International Civil Aviation Organisation shows the first stage falling away between Korea and Japan and the second stage plunging into the Pacific.
Japan has warned it is considering repositioning land and sea-based interceptor missiles, ready to shoot down any missile headed for its territory.
Analysts believe the testing of a missile that could theoretically reach Alaska is aimed at strengthening the North's hand in currently stalled nuclear disarmament negotiations with the United States and others.
They say a successful launch, especially before South Korea's own space rocket launch scheduled for July, will also bolster domestic support for leader Kim Jong-Il.
The parliament session and the rocket test "are closely linked and coordinated," Professor Yang Moo-Jin of the University of North Korean Studies told AFP.
"The launch is meant as a fanfare" for the inauguration of a new administration, he said.
The North appears confident both in its technology and its diplomacy.
"North Korea is quite confident about a successful launch as Iran in February succeeded in putting a satellite in orbit with its technical assistance," Baek Seung-Joo of the Korea Institute for Defence Analyses told AFP.
Pyongyang's relations with Washington may be frozen for a time, Kim Yong-Hyun, a North Korea studies professor at Seoul's Dongguk University, told Yonhap news agency.
"But the US government intends to talk with North Korea, and the North is open to it," Kim said. "Tensions will ease before long and they will reach out for direct talks."
The Supreme Peoples' Assembly meets infrequently and is a rubber-stamp body, but its make-up can indicate future trends in the hardline communist state.
Among its first tasks will be the re-election of Kim, 67, as chairman of the National Defence Commission, the country's most powerful body which supervises the 1.2 million member military.
Kim is widely reported to have suffered a stroke last August but South Korean officials believe he remains in charge.