North Korea has sent secret agents to South Korea to try to assassinate its defence minister, who has vowed a stern response to attacks from the communist state, media reports said Wednesday.
The defence ministry said it could not confirm the reports but added that security for Kim Kwan-Jin has not been strengthened recently .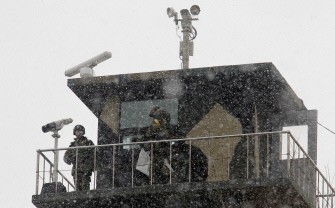 In a file picture taken on December 27, 2010 South Korean marines stand guard at a guard post on Yeonpyeong island near the disputed Yellow Sea border.
The isolated communist state has previously sent secret agents to assassinate high-profile defectors who settled in the capitalist South.
But there have been no reports in recent years that top Seoul officials were being targeted.
JoongAng Ilbo newspaper said US and South Korean intelligence had been tipped off about a team sent to kill the minister and were trying to track it down.
"It's not known whether the North has sent its own agents, hired foreigners from a third country or assigned the mission to its spies already operating in the South," the paper quoted one unidentified Seoul official as saying.
"But it is a definite fact that a team aiming to assassinate minister Kim is operating on the orders of the North."
Yonhap news agency, quoting government sources, also reported an apparent plot against Kim.
Defence ministry spokesman Kim Min-Seok said he could not confirm reports of tip-offs to intelligence services.
He said key defence officials had been receiving security protection "for quite some time" and there had been "no significant changes" in the level of that protection.
Minister Kim has called for a strong response to the North's attacks since taking office last December in the wake of Pyongyang's shelling of a border island that killed four South Koreans and briefly fuelled fears of war.
In March he ordered soldiers to "shoot first and report later" if attacked.
The North's state media has described the minister as a "traitor" and "warmonger".
Its ruling party newspaper Rodong Sinmun said in June that minister Kim should be "executed immediately" after it emerged that some South Korean troops were using photos of the North's ruling family as rifle-range targets. The practice has been halted.
Lee Han-Young, a nephew of a former wife of the North's leader Kim Jong-Il, was shot dead in Seoul by the North's agents in 1997. After defecting in 1982 he became a bitter critic of the regime.
Two North Korean agents were arrested in the South last year after posing as defectors in a plot to assassinate Hwang Jang-Yop, the highest-ranking defector ever to come south. Hwang died of a heart attack last October.