North Korea vowed Wednesday to take "every necessary measure" to protect itself as it issued a fresh warning that an ongoing US-South Korean military exercise could trigger a war.
North Korea says the March 9-20 exercise, which involves tens of thousands of troops, is aimed at launching a "second Korean War" while Seoul and Washington insist it is a routine annual defensive drill.
Pyongyang Monday placed its 1.2 million-member military on combat alert, cut military phone and fax lines to South Korea, and warned that any attempt to block what it calls an upcoming satellite launch would spark conflict.
On Wednesday its foreign ministry described the drill as "nuclear war exercises designed to mount a pre-emptive attack" and said more troops and equipment had been mobilised than in previous years.
"This situation hardens the will of the DPRK (North Korea) to bolster up its defence capability in every way, no matter what others may say," it said.
"The DPRK, exposed to the potential threat of the US and its allied forces, will take every necessary measure to protect its sovereignty," a ministry spokesman told official media without elaborating.
The exercise began at a time when "the situation has grown so tense that a war may break out any moment," the North added.
"No one can vouch that the US and the South Korean puppet bellicose forces will not play with fire against the DPRK while staging such dangerous war exercises."
In an unusual attack specifically against the new US administration, the North accused it of "working hard to infringe upon the sovereignty of the DPRK by force of arms" and of "seriously interfering in its internal affairs."
It gave no details. During her Asia trip last month, Secretary of State Hillary Clinton touched on the sensitive issue of succession in North Korea.
Analysts suspect the North, which tested an atomic weapon in 2006, is trying to strengthen its hand in future nuclear-disarmament negotiations with Washington.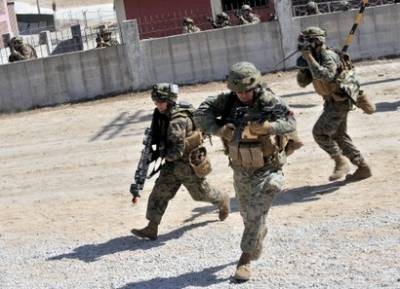 US soldiers move to a position during a joint military exercise with South Korean troops at a shooting range in Pocheon near the Demilitarized Zone dividing the two Koreas
Seoul
and Washington officials believe the real purpose of any satellite launch would be to test a long-range
Taepodong-2
missile, which could be fitted with a warhead.
The new US intelligence chief, Dennis Blair, said he believed the North is indeed planning a satellite launch, but noted that the technology involved is "indistinguishable from intercontinental ballistic missiles."
"I tend to believe that the North Koreans announced that they are going to do a space launch, and I believe that that's what they intend," he told the Senate Armed Services Committee Tuesday.
Blair said that if a three-stage space launch vehicle worked, it could reach not only Alaska and Hawaii but parts of the other 48 US states.
Seoul and Washington say a launch for any purpose would breach a UN resolution passed after a previous and unsuccessful Taepodong-2 test in 2006.
South Korean Foreign Minister Yu Myung-Hwan said Wednesday it would also harm six-nation talks on denuclearising the North.
"Irrespective of whether it is a satellite or a missile, such a launch will constitute a breach of the UN resolution 1718 and... hurt the six-party process," he said in a speech.
Kim Yeon-Chul, director of the Hankyoreh Peace Research Institute, said Wednesday's statement means the North is likely to go ahead with a launch.
Kim told AFP the North wants to expand the agenda of future negotiations with Washington "to include not only its nuclear programmes and missiles but military situations on the Korean peninsula as well."
Pyongyang is also angry at South Korea's conservative government, which scrapped its predecessors' policy of offering virtually unconditional aid.
However, on Tuesday Pyongyang reopened the border to South Koreans working at a joint industrial estate -- one day after effectively shutting the frontier by cutting military communications.