North Korea test-fired five ballistic missiles Saturday, South Korean officials said, in an apparent message of defiance to the United States on the eve of its Independence Day holiday.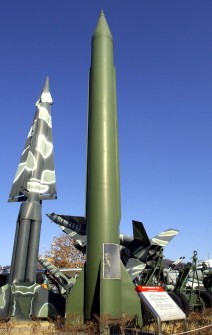 File photo taken December 11, 2002 shows a model of a SCUD-B missile produced in North Korea, displayed at the War Memorial Hall in Seoul.
The launches off its east coast further fuelled regional tensions after the communist state's nuclear test in May.
They came as Washington seeks support for tough enforcement of United Nations sanctions aimed at shutting down the North's nuclear and missile programmes.
Seoul's foreign ministry said the first four weapons launched into the Sea of Japan (East Sea) were ballistic missiles, which the North is banned from firing under various Security Council resolutions.
Seoul's Joint Chiefs of Staff said the latest missile, fired at 2:50 pm (0550 GMT), was of the same type as the first four.
It was the first time in three years that the North fired multiple ballistic missiles.
South Korea's Joint Chiefs of Staff said they had a range of between 400 and 500 km (250-312 miles) but declined to say what type they were.
Yonhap news agency said they were either Scuds, or Rodong-1 missiles whose maximum range of 1,300 km had been shortened.
The North on Thursday test-fired four short-range missiles with a range of 120 km into the Sea of Japan.
The latest launches, which started at 8 am, were seen as more provocative since the missiles could potentially reach most of South Korea, and possibly parts of Japan.
"The military, on the basis of a strong joint defence alliance with the United States, is fully prepared to fend off any threats or provocations by the North," the Joint Chiefs said in a statement.
The foreign ministry said the missiles were fired from a site at Kitdaeryong near the eastern port of Wonsan.
It said the "provocative act... clearly violates" three UN Security Council resolutions, including the latest one on June 12 which toughened weapons-related sanctions on the North in response to its May 25 nuclear test.
In a statement the ministry expressed "deep regret over North Korea's continued acts to escalate tensions in Northeast Asia."
Professor Kim Yong-Hyun of Seoul's Dongguk University said the launches were clearly timed to coincide with US Independence Day.
"This is a thinly veiled warning to the United States and the international community that it may launch long-range missiles next time," he told AFP.
"The North is exercising salami tactics, firing short-range missiles on Thursday and launching missiles with longer range today."
Professor Yang Moo-Jin at Seoul's University of North Korean Studies said the North was trying to show it could defend its long-range missile launch site at Musudan-ri further to the north, and "testing the waters" following the UN resolution.
Japan condemned the launches.
"It is a serious act of provocation against the security of neighbouring countries, including our country," Chief Cabinet Secretary Takeo Kawamura said.
Kawamura warned Tokyo would "promptly take appropriate measures" to implement the resolution.
Baek Seung-Joo of the Korea Institute for Defence Analyses said the North test-fires missiles three to four times each year to improve technology and maintain missile exports.
"Today's launches were part of a usual military drill but by firing 500 km-range Scuds, the North was clearly displaying its ability to strike back against any international sanctions involving military means," Baek told AFP.
He said, however, that there is no sign of the North preparing to fire another long-range missile in the near future.
The North has made a series of bellicose moves this year. A long-range rocket launch on April 5 was followed by a nuclear test -- the second since 2006 -- on May 25.
In the days after its atomic test, Pyongyang fired a total of six short-range missiles, renounced the truce in force on the Korean peninsula for half a century and threatened possible attacks on Seoul.
When the United Nations in June tightened sanctions on its missile and atomic activities, the North vowed to build more nuclear bombs.
North Korea test-fired a long-range Taepodong-2 missile, along with several short- and mid-range missiles, on US Independence Day in 2006. Its latest nuclear test coincided with the US Memorial Day holiday.