SEOUL, Aug 19, 2009 (AFP) - North Korea will send a delegation to the funeral of former South Korean president Kim Dae-Jung, South Korean media reports said Wednesday.
Yonhap news agency and YTN Television reported plans by the communist state to send representatives to the ceremony. Seoul's unification ministry said it not yet been told of such a plan.
Kim, who died Tuesday aged 85, in 2000 held the South's first-ever summit with the North and was awarded the Nobel peace prize later that year.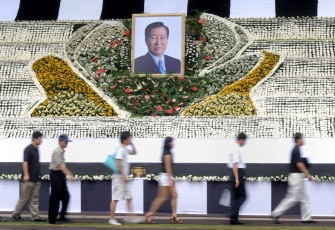 Mourners pass by the memorial altar for the late former South Korean president Kim Dae-Jung erected in front of the Seoul city hall on August 19, 2009 (AFP photo)